Here's everything you need to know about the All Valley Cup in Fortnite including the free Cobra Kai sprays you can win.
In previous seasons of Fortnite, especially chapter 2 season 4, Epic Games held tournaments that provided players with free cosmetics if you placed high enough by earning points based on your placement and eliminations in each game.
We haven't had a tournament like that in a while until recently. On January 3rd, Epic Games announced the Fortnite All Valley Cup. Players can test their skills in this tournament with a chance to win three different spray cosmetics.
Due to the fact that sprays aren't the most sought-after cosmetics and are barely used by players, it's much easier to win these sprays than what we've seen with other cosmetics such as skins and back bling in previous tournaments.
Here's everything you need to know about the All Valley Cup Fortnite tournament including start times, how to get the free sprays, and the scoring system.
Fortnite All Valley Cup Start Time
Here is the start time for the All Valley Cup for different regions starting today, January 8th 2022:
UK & EU: 3 PM GMT (UK), 4 PM CET (EU).
NA East: 5 PM ET
NA West: 5 PM PT
How to enter
Log in to Fortnite and head over to the "compete" tab which you'll find on the top navigation bar. It'll automatically take you to the SOlo Contender Hype Cup which is in seven days.
To find the All Valley Cup, click the left arrow button to navigate all the way to the left. You should see the cup along with how long there's left before it starts as shown in the image below.
How to get the free Cobra Kai, Miyago-Do, Eagle Fang Sprays
As we mentioned previously, it's much easier to earn some of these free Fortnite sprays. To earn the Cobra Kai spray, players need to finish in the top 50%. TO earn the Miyagi-Do spray you need to place top 30% and finally, place int he top 10% of players to earn the Eagle Fang Spray.
Obviously, if you finish in the top 10% of players in the cup, you'll earn all three sprays, if you finish top 30%, you'll get two sprays. If you haven't seen what the free sprays look like, we've included an image below.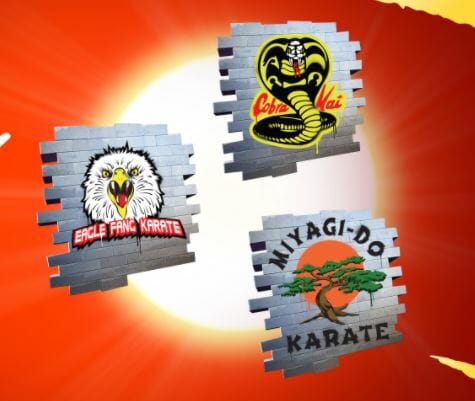 Scoring System
The All Valley Cup in Fortnite will be played as solo. You will have ten matches that will need to be played within a three-hour window in order to score as many points as possible.
Here's the points system:
Victory Royale: 30 points
2nd: 25 points
3rd: 22 points
4th: 20 points
5th: 19 points
6th: 17 points
7th: 16 points
8th: 15 points
9th: 14 points
10th: 13 points
11th – 15th: 11 points
16th – 20th: 9 points
21st – 25th: 7 points
26th – 30th: 5 points
31st – 35th: 4 points
36th – 40th: 3 points
41st – 50th: 2 points
51st – 75th: 1 point
Each Elimination: 1 point