Here's where to find the Ariana Grande NPC in Fortnite along with all of her quests / challenges.
Epic Games released the v18.21 Fortnite update yesterday. A new POI was added along with the second phase of Fortnitemares 2021. Players can complete Fortnitemares quests in order to unlock free cosmetic rewards including a wrap and pickaxe.
With the release of the Fortnitemares quests, other quests were released including the Ghost Busters Afterlife and Ariana Grade Monster Hunter quests. In order to complete the Ariana Grade Fortnite challenges, you'll need to find and talk to her. Here's where Ariana Grande is in Fortnite and all of the quests available.
Ariana Grande Fortnite Quests / Challenges
Here are all of the Monster Hunter Ariana Grande challenges:
Collect Symbols from eliminated Cube Monsters (5)
Where is Space Ariana Grande in Fortnite?
In order to begin the quests, you'll need to find and talk to Ariana to reveal the first quest. Ariana was added as an NPC in Tuesday's update, so players might not know where to find her on the Fortnite map.
You can find her on the north side of Believer Beach on the dock. She'll wonder around but here's where you should find her on the map: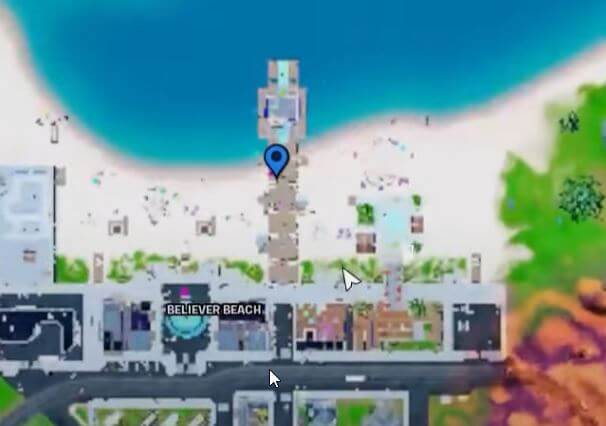 Simply interact with her and you'll have the option to get a quest. Once you do this, you can begin completing the challenges. We'll be releasing guides on some of her challenges to help you complete them if you haven't done so yet. Stay tuned and be sure to check back here and we'll link the guides to the quests listed above.