Fortnite Week 4 is upon us, and with it comes new challenges to complete. As usual, this weeks challenges has 3 free challenges and 4 Battle Pass challenges. Thanks to The Squating Dog, we have a cheat sheet to help you complete all of the week 4 challenges much quicker, as well as the Hunting Party Challenge #4 hidden banner location.
The cheat sheet for Season 6, week 4 can be found below.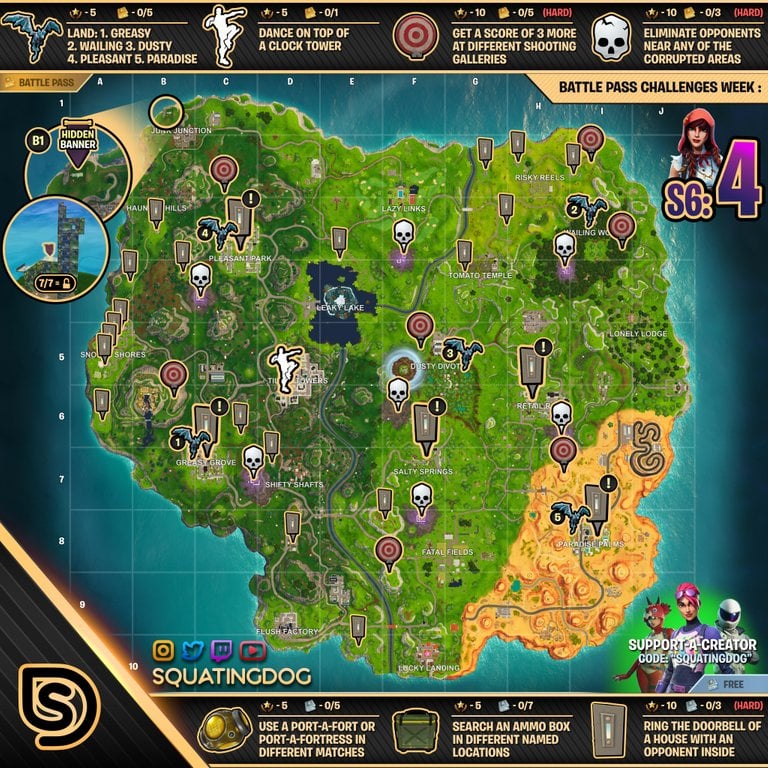 Here are all of the Season 6, Week 4 challenges:
FREE CHALLENGES
Use a Port-a-Fort or Port-a-Fortress in different matches (5)
Search an Ammo Box in different Named Locations (7)
Ring the doorbell of a house with an opponent inside in different matches (3)(HARD)
BATTLE PASS CHALLENGES
Land at Greasy Grove (1)
Eliminate opponents near any of the Corrupted Areas (HARD)(3)
The cheat sheet map highlights all of the shooting gallery locations, a challenge which requires you to  get a score of 3 or more at 5 different locations. The cheat sheet also highlights the Clock tower, the corrupted areas of the map and the houses that have a door bell on them which you need to ring when an opponent is inside in 3 different matches.