Raven Software released a new CoD: Warzone update today, 1.55. Here are the patch notes for the March 23rd, 2022 update.
A couple of days ago, Activision released the roadmap for season 2 reloaded. Yesterday, the update for Vanguard was deployed and today, the Warzone update went live. Here is everything you need to know about the mid-season update thanks to the official patch notes that have been released today (March 23, 2022).
Warzone Update Download File Size March 23
Every major Warzone update is huge in size and unfortunately, today's 1.55 patch is no different. Here are the download sizes for each platform the game is available on:
PlayStation 5:
PlayStation 4:
Xbox Series X / S:
Xbox One:
PC:

7.1 GB (Warzone Only)
12.4 GB (Warzone and Modern Warfare®)
1.55 March 23rd, 2022 Warzone 1.55 Patch Notes
One of the biggest new additions in today's patch update is deployable buy stations. It's a field update that can be deployed by placing a marker on the floor. It has the same inventory as a normal buy station and will show up on the map with its own unique icon.
Players can now drop their gas masks through the drop-down inventory menu, players can now collect armor players within ground loot armor satchels, even if they already have one on.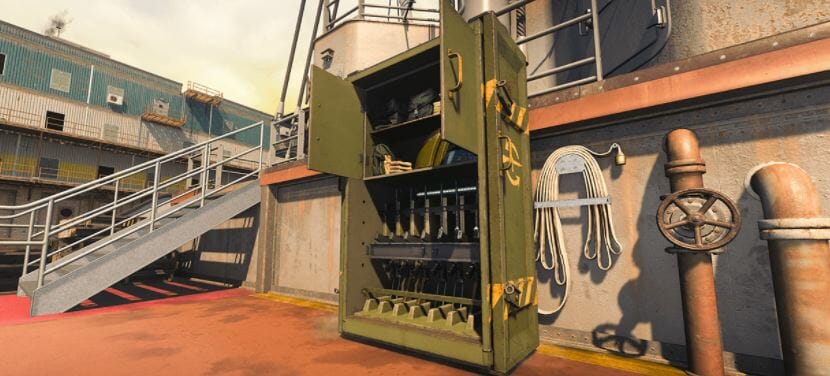 On Rebirth Island, players can trade their weapons in for armor satchels, killstreaks, cash, and more. There are new modes for Rebirth too including Rebirth Payload, blood money, and Solos. We also have the map changes that were mentioned at the start of the season and then later teased.
The changes to rebirth island include Shore becoming Docks, the Prison Yard changing so it's not as open as it was previously with a guard wall walkway to prevent you from getting shot at by anyone camping the top of the prison. There's also a boat that's docked at Nova 6 Factory which you can explore for items and supply boxes.

We also have the new Armaguerra 43 SMG. It's a very high rate-of-fire SMG that's effective at short to medium range. A number of weapons have adjustments with the Vargo 52 being nerfed, the M1 and G-43 receiving small buffs, and more.
You can find the full patch notes here.