We're yet to get official confirmation of a Dragon Ball Z x Fortnite collaboration, but it looks like we have that with the latest tweet on the official Fortnite Twitter account.
It's no secret Epic Games and continuously building on the Fortnite metaverse. From Marvel characters to popular music artists and content creators making their way into the game through the item shop cosmetics.
At the start of July, there were rumors of a Dragon Ball Z Collaboration coming to the game. The rumors intensified when a legitimate source provided information to data miners that the Dragon Ball Z x Fortnite collab would be coming in August.
There hasn't been any new information for the past few weeks with no new update released with the Epic Games employees on a well-deserved break. However, it's all but confirmed the Dragon Ball Z collab will be coming next week.
Fortnite x Dragon Ball Z Start/Release Date
The official Fortnite Twitter account released a tweet all but confirming the Dragon Ball Z x Fortnite collaboration. The below tweet was put out along with the release date of the collaboration, August 16th, 2022.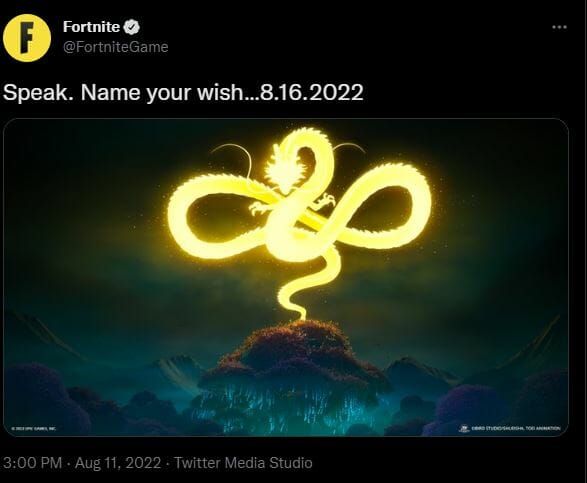 Dragon Ball Z Fortnite Collaboration
Popular data miner, ShiinaBR, tweeted a number of items that would be coming as part of the collaboration as well as different challenges that'll be available.
A Goku and Beerus Fortnite skin should be available in the shop during the collaboration. There's no word on whether the challenges during the collaboration will provide free cosmetics for players, but it seems like that could be the case.
ShiinaBR recently tweeted the leaked Dragon Ball Z Fortnite lobby background which we've included below: