Epic Games have announced a new Fortnite patch update today, v23.40. Here's everything you need to know about the 3.81 release including early patch notes, the server downtime time, and more.
It's been two weeks since the last major Fortnite update. The last patch, 23.30, introduced yet another collaboration with bost Son Gohan and Piccolo making their way onto the Fortnite Island.
Five new Reality Augments were also added to the game including Icy Slide, an augment that gives players a speedy boost while sliding.
Apart from the above, the only other major change we had was the weekly quests. In previous seasons of Fortnite, weekly quests would not expire.
However, Epic Games decided to change that with the launch of Chapter 4 Season 1 with the weekly quests expiring when the new set of quests was unlocked.
This was changed with weekly quests no longer expiring. That means players can now complete a set of weekly quests at any time until the end of the current season.
Content has been fairly dry for the past week with the only change coming on Tuesday with the Slurp Juice making its way out of the vault.
Thankfully, Epic Games have announced a new Fortnite update for today, 23.40. Here's all the information you need to know heading into the latest patch from the time the servers will go down for scheduled maintenance to the early patch notes.
Fortnite Servers Downtime – Are the Servers Down on February 14th, 2023?
A new Fortnite update means the servers going down for scheduled maintenance for a couple of hours in order to apply the new patch release.
Each new update is announced on the official Fortnite Status Twitter account, and that's no different with the release of the 3.81 (v23.40) patch.
Epic has announced that the Fortnite servers will go down for scheduled maintenance at 4 AM ET with matchmaking being disabled shortly before.
Here's the tweet: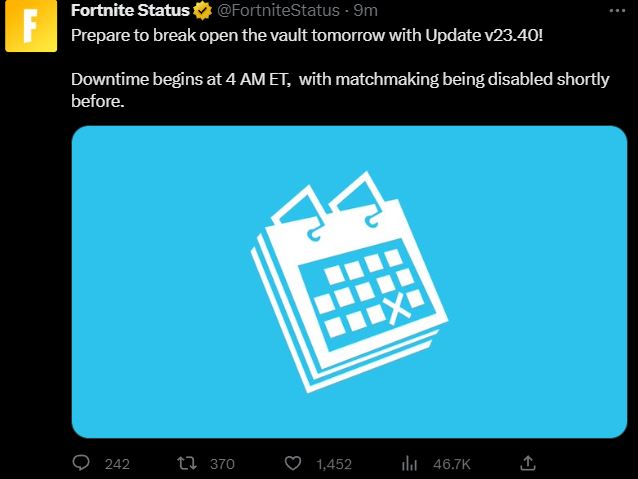 As with any Fortnite update, Epic never releases information regarding when the servers will be back up. Based on the last few patch releases, we're doing to assume the servers will be down for approximately two hours.
That means the servers should be back online at roughly 6 AM ET / 11 AM GMT. We'll update this when the servers are officially back online.
v23.40 (3.81) Update Download File Size
Players usually look to see how large or small the latest Fortnite update download file size is. As soon as the information is available, we'll update this with the download size on each platform.
Fortnite Update 3.81 (v23.40) Patch Notes Today – 14th February 2023
As usual, Fortnite data miners have provided some insight as to what players can expect from the v23.40 update.
According to popular data miner ShiinaBR, this is what to expect in the 3.81 update:
New Cosmetics
New Augments
Encrypted March Crew Pack
New Item? (Boombox Guitar?)
Level-Up Quest Pack?
New Weekly Quests
Info about next week's unvault
Vaulted Dragon Ball Mythics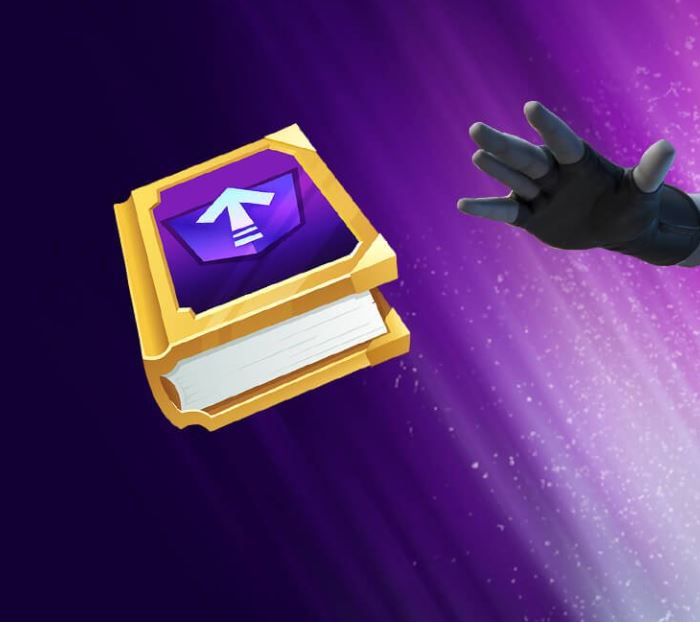 Fortnite Valentine's Day 2023 Skin Leaks
A leak suggests we'll be getting a brand new Fortnite Valentine's Day skin for 2023 called Folly that'll be available when downtime ends.
Although we don't know what the skin looks like, we know the cosmetics in the set will be:
"Folly" 2023 Valentine's Day outfit w/ variant
"Folly's Heartcase" back bling
"Heartache" pickaxe
"Jester's Privilege" wrap