Here's all the Birthday cake Fortnite locations for the "dance in front of different birthday cakes" challenge.
Instead of the patch notes Epic Games used to released in chapter 1, Epic now send out a highlight email of what will be added in major patch updates to those in the support-a-creator program prior to the update going live.
The v14.20 Fortnite update went live on Wednesday and Epic added in Fortnite birthday challenges which data-miners leaked ahead of time. There were also birthday balloons and presents that were leaked which are also available in the game.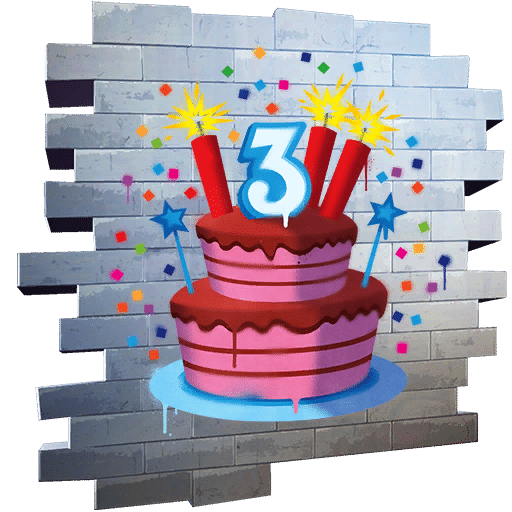 Players will get a free Fortnite emote called Take The Cake along with a Birthday Bash emoticon. All players need to do in order to receive these free rewards is log into Fortnite before October 1st.
Players have until 1st October to complete all of the Fortnite 3rd birthday challenges and earn the free cosmetic rewards and XP. One of the challenges requires players to dance in front of 10 different birthday cakes.
We've created a quick guide to help you find all of the birthday cakes on the Fortnite season 4 map.
All Fortnite Birthday Cake Locations
There's a number of birthday cake locations in Fortnite. You'll find them at all major locations on the map. It shouldn't be hard to find all the birthday cake locations and here's what the 3rd Fortnite birthday cake looks like in-game:
Here's a map of all the locations where you can dance in front of different birthday cakes and we'll update this with more exact markers along with images of each birthday cake in Fortnite:
Update 1: It looks like so far every major POI has a birthday cake. You can find them easier by looking out for the balloons. Balloons are placed nearby cakes. We've attached some examples below the map.
Update 2: Looks like there's no cake at Coral Castle, Stark Industries, Steamy Stacks, or Catty Corner. The rest should have a cake. We have a youtube video linked at the bottom of the article with all known locations although the map is probably the easiest way to find them.
Update 3: We've created a far better, more accurate and in-depth guide here > Birthday Cake Fortnite Locations