Here is what happened in the live event today to end Fortnite Chapter 2 in case you missed it.
Fortnite Chapter 2 has now come to an end with Dwayne 'The Rock' Johnson making an appearance as The Foundation. As with most of the Fortnite live events, there were some parts of the event where players were able to move about and interact and some cut scenes which explained part of the story and what was happening.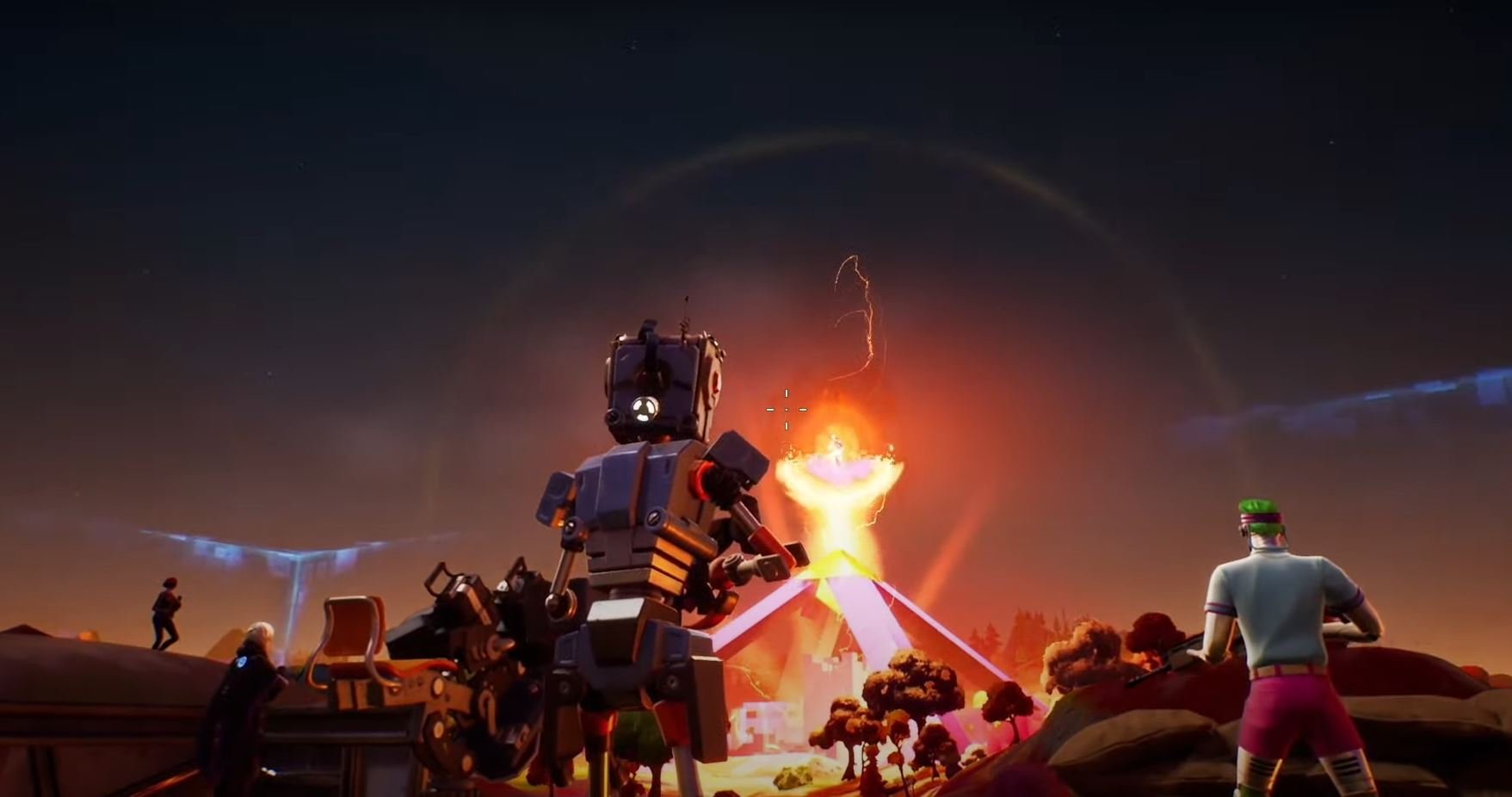 What happened in the Fortnite Chapter 2 Live Event – The End?
At first when you spawn into the match, you first see the blue cube (Blevin) spawn and see that it creates a square barrier which went around the players in your playlist. When you it was getting closer to the time of the event, you could hear the Cube Queen laughing at times and players were also given an Assault Rifle and Pistol with unlimited ammo. We could then see Cube Monsters randomly spawning in front, which players could kill with their weapons and if they hit you. you would take 20 damage to your health or shield. If players went down, they were automatically revived after a little time.
The Cube Monsters stop spawning and you see the Cube Queen getting more powerful and she says, "The Last Reality is at hand!" She then shoots a blast up in the air, where you see she is opening up a portal to a different reality where you see a Mothership. You then see little saucers coming through, which you can deal damage to.
She manages to open the portal even more and you can see many Motherships in the sky and you see the saucers have broken the shield that Blevin made. If you hit the blue cube, you would have got more heals as you did start to take some damage. The Cube Queen then says, "Destroy them, my children," and there were big Cube Monsters that would spawn. She then manages to take the weapons from players and the saucers/abductors in the sky then destroy Blevin.
Once that happens, it goes to a cut scene, where you see Slone waking up Jonesy and the Foundation appears, which is voiced by Dwayne 'The Rock' Johnson. The Foundation then asks for Jonesy help to stop the Cube Queen from taking them 'to the other side'. You then see the Scientist and the Visitor helping everyone to get to safety. You then have to follow the Scientist to the bridge. You then see the Foundation and Jonesy and the Foundation says to Jonesy, "Why does she keep making me keep saving you?"
You then see a huge Cube Monster smash the glass and you then end up swimming to the surface where you see the whole map being turned upside down, which destroys the Cube Queen. A wave then washing over you and that was everything that happened in the event!