A challenge for Week 3 of the Fortnite Battle Royale challenges is to deal damage from inside a cornfield at Frenzy Farm and here is how to complete it.
At the start of the season, there were many POIs that have been submerged underwater and are no longer named locations on the map, like Risky Reels. The POIs that have survived do have some changes, but Frenzy Farm wasn't affected too badly by the flood.
One of the challenges for Week 3 of Fortnite is to deal damage from inside a cornfield at Frenzy Farm and as Frenzy Farm is a named location on the map, it is not difficult to find, but some players may not know where to find the cornfield in this location.
Fortnite: Deal Damage From Inside a Cornfield at Frenzy Farm
You will be able to find the cornfields mainly north of Frenzy Farm, and we have highlighted the exact location of the cornfields in red on the map below: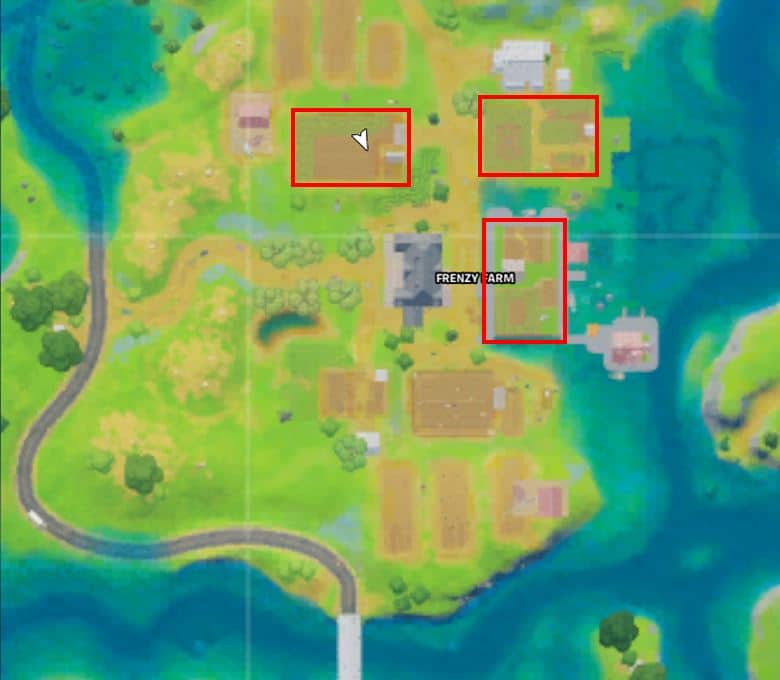 In order to complete the challenge, you will need to deal at least 100 damage to enemies, and so the best way to do this will be to find a weapon first and then make you way to the cornfields.
There are chests you can find in the cornfields, as well as weapons and ammo, so you could try your luck at landing in the fields first and finding a weapon to deal damage or you could hit enemies that also land in the fields to deal damage.
You can complete this challenge in any mode, but it could be easier to complete this challenge in the Team Rumble mode because if Frenzy Farm is on the enemies side, you will definitely have player to complete the challenge, and vise versa there could be players trying to come on your side to complete the challenge.