The Fortnite Horde Rush LTM challenges and rewards have been unlocked and are available for players to complete.
UPDATE: How to play Horde Rush 2023 in Fortnite
In yesterday's v9.21 Fortnite update patch notes, Epic announced a new LTM that would be coming to Battle Royale, Horde Rush. This LTM was originally leaked by dataminers from last week's v9.20 update.
Here's the details on the Horde Rush LTM from the v9.21 patch notes:
Fortnite Fiends are back on the island and angrier than ever! Fight alongside your teammates to rack up your score by finding hidden score multipliers, opening special loot chests, and eliminating as many monsters as you can. Traverse across the map, survive all of the Defend locations and take down the Final Boss to win!
Mode Details

Four player Squad mode divided up into multiple stages.
Prepare to defend an area by searching for weapons & items, scavenging materials, and building defenses.
Rack up points by fighting Fiends, collecting score multipliers, and destroying Fiend Spawners.
Recover from the battle and search for more equipment.
Travel across the map to the next defense point.
Respawning is enabled until the last stage when players have to destroy a Boss Fiend and his horde of minions.
Keep an eye out for special loot chests, which contain powerful weapons & provide a scoring bonus.
The Horde Rush LTM went live just under an hour ago, however, it was disabled due to an issue that was discovered. The challenge and rewards however, are still live and will be available to complete once the LTM is rotated back in.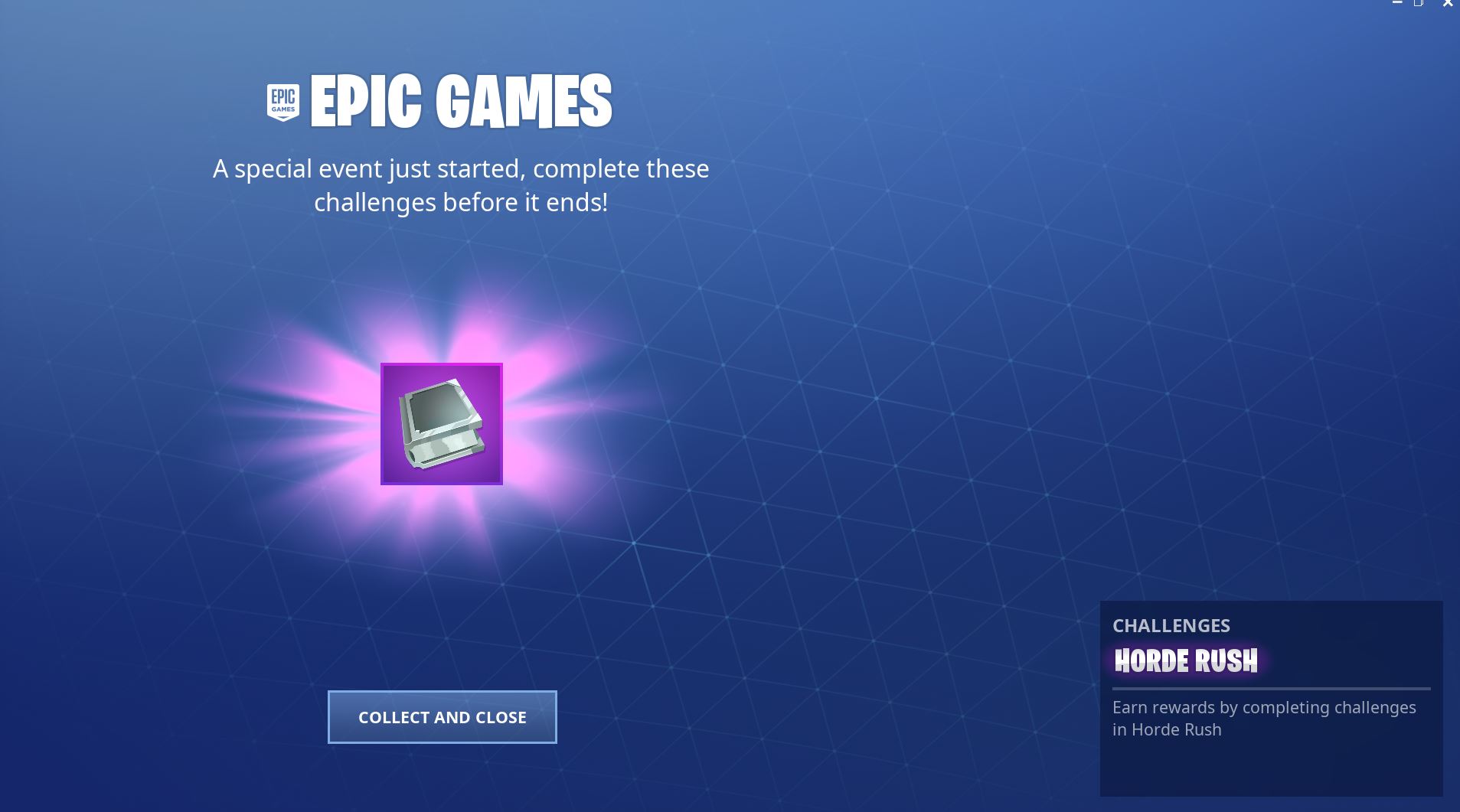 Fortnite Horde Rush LTM Challenges and Rewards
There are a total of 7 challenges and upon completing all of them, players will be rewarded with the fiend animated wrap, which is of rare rarity.
Eliminate members of the Horde with headshots (500)
Eliminate Poison Fiends or Exploding Brutes from at least 5m away (20)
Collect score multipliers (10)
Damage spawn Obelisks (5,000)
Work together with your squad to eliminate Gold Brutes (5)
Win a match without being eliminated (1)
Stage 1 of 4: Win with a team score of at least 50,000