Leaks from today's v11.30 Fortnite update point towards the Star Wars event at Risky Reels have their own set of challenges and rewards.
Update: View the Fortnite Star Wars challlenges and rewards linked at the BOTTOM of the article
Epic Games finally released a meaningful update yesterday after three weeks without any major content. The last major Fortnite update was the v11.20 update. Since then, there were two weeks of no content and one week for the v11.21 bug fixing update.
For that reason, it comes as no surprise that yesterday's update contained a whole host of different leaks. We now have leaks for the Fortnite Christmas loading screens, the 14 days of Fortnite/Winterfest challenges and rewards, new leaked Fortnite skins and cosmetics, a new Fortnite Annual Pass with cosmetics, new skin styles, a bunch of weapons being unvaulted along with a new landmark, a Polar Peak Legends pack, a free PlayStation Plus Celebration Pack, and much more.
We already knew that there'll be a Fortnite Star Wars event taking place tomorrow, December 14th at 2pm ET, but we didn't know the Fortnite event at Risky Reels would be more than just a premiere of an exclusive clip of Star Wars: The Rise of Skywalker.
New leaks from yesterday's update hint towards a set of challenges for the event along with the possibility of rewards. It goes without saying that there's minor spoilers head.
Star Wars Challenges
Dataminers have discovered and leaked challenges pertaining to the Star Wars Fortnite event. The challenges are encrypted, but the leaks hint that we will be getting challenges a rough idea of what to expect from them.
The challenges will likely include attending the event, collecting items (LobsterRocket), and dealing and blocking damage.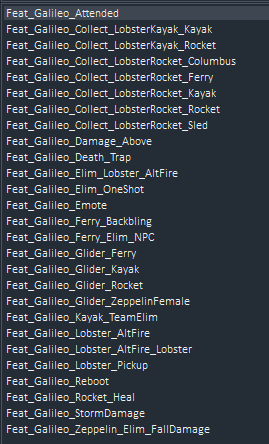 One of the rewards for the challenges will be this emote:
Encrypted Star Wars Emote, comes from challenges afaik! pic.twitter.com/7twLE18tzW

— Prism (@pr1smdev) December 12, 2019
Event Objects
According to dataminer FortTory, one of the challenges will require players to open chests or ammo boxes at Ferry crash sites that will occur after or during the event.

Different objects for the event have also been leaked:
Galileo event stuff! pic.twitter.com/HiDMjkWqUw

— FortTory – Fortnite Leaks & News (@FortTory) December 12, 2019
Fortnite Lightsabers
According to dataminers, the "Lobster" file names found are likely codenames for lightsabers. There are four different colours found in the files: red, green, purple and blue. There's a chance players will get to use them during the event.
Fortnite Star Wars LTM
There will be a seperate playlist for the Fortnite Star Wars event. We can gather from all the leaks that there's be a different event that'll happen after the Star Wars Rise of Skywalker scene ends, leading to the challenges and something crashing onto the island.
Free Tie Whisper Glider
Anyone that participates in the Star wars Fortnite event will receive the Tie Whisper glider for free.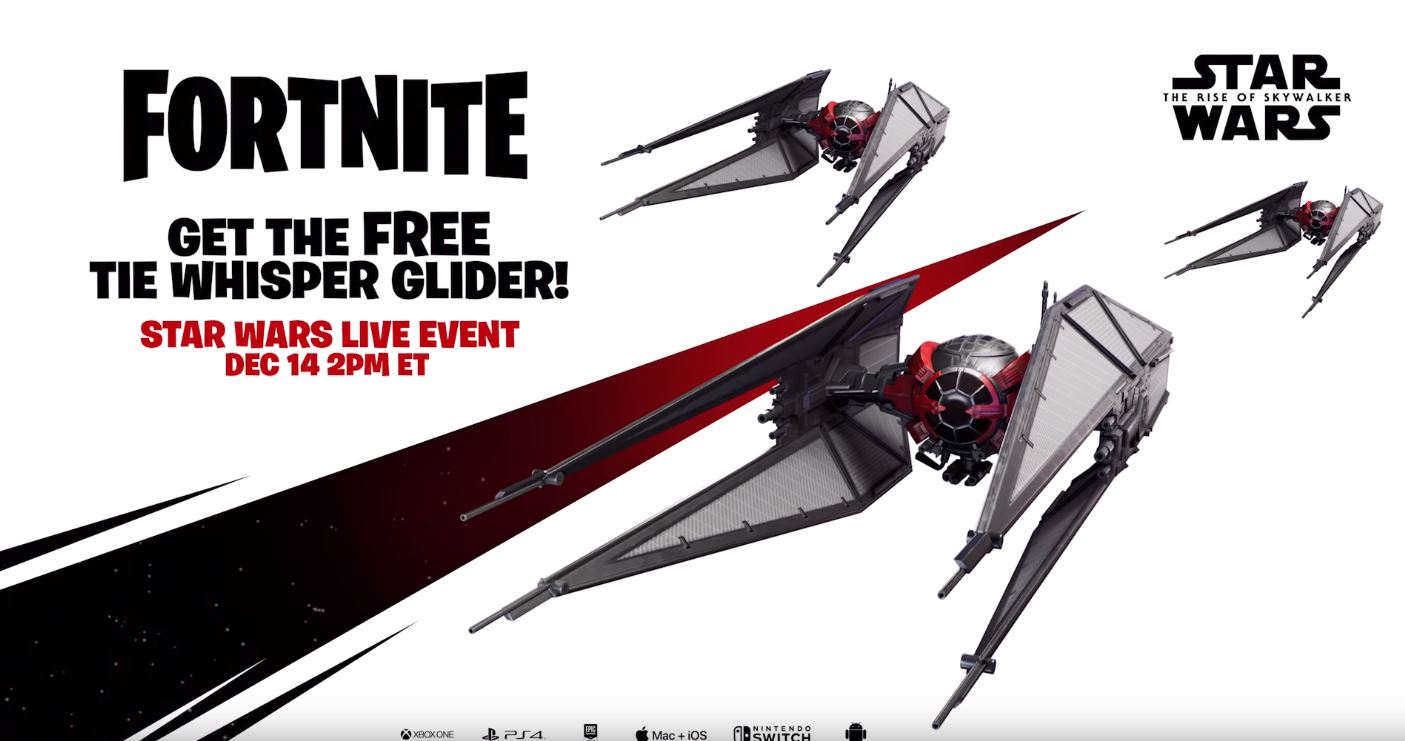 UPDATE: The Fortnite Star Wars challenges and rewards are LIVE. Click here to view them!