The challenges for this week were pushed to Friday instead of being available on Thursday as they normally are. This was due to the v5.3 being delayed to Thursday, but looks like there was good reason for the delay! There have been many files that were added to the update, including upcoming cosmetics, new Tomatohead Challenges, map changes, potentially new weapons and the mysterious lightning strikes near Paradise Palms. It looks like the storyline for this season is starting to unfold and we will keep you updated with the latest.
Here are the official challenges for Season 5, Week 7: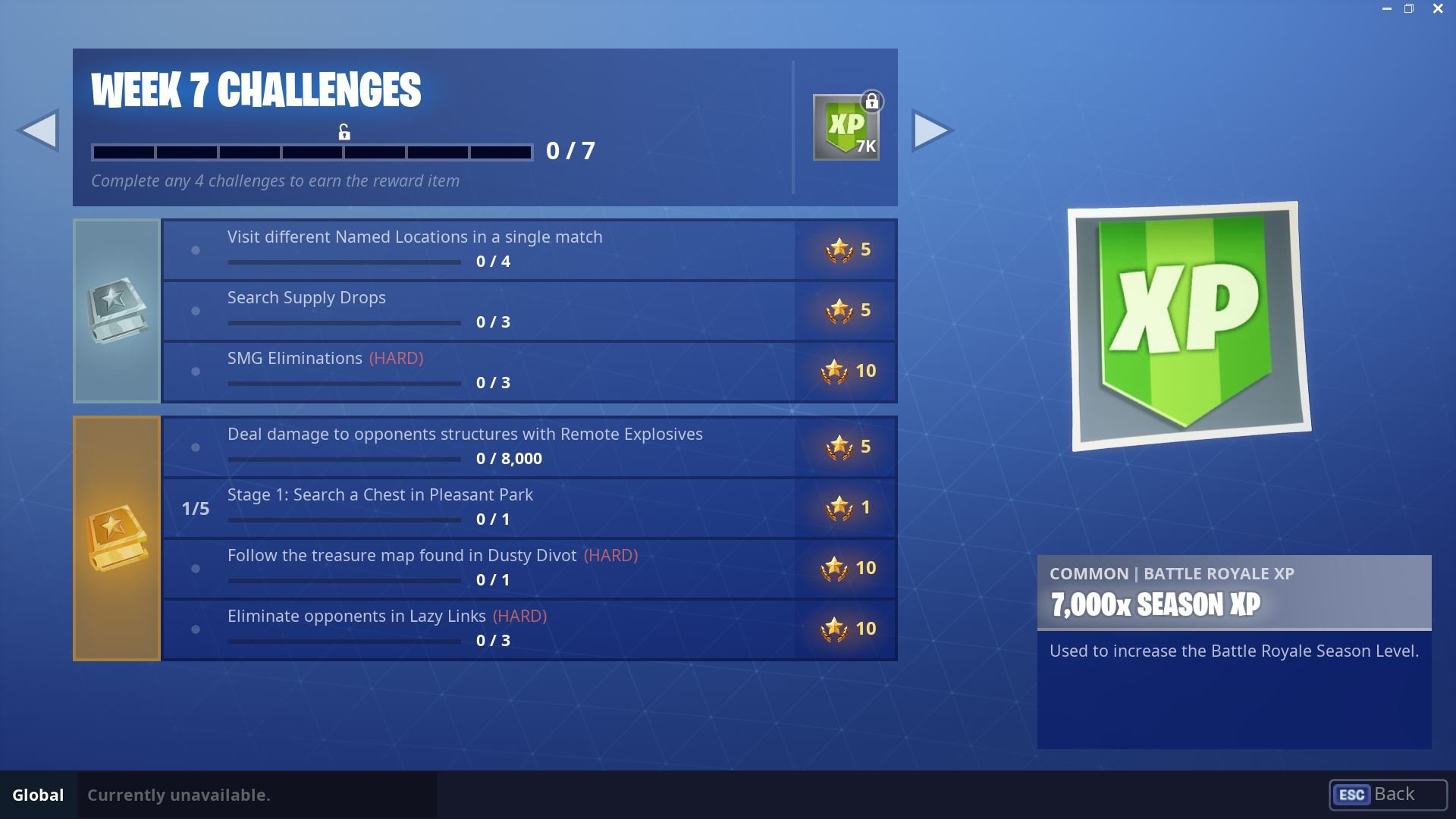 FREE PASS CHALLENGES
Visit different Named Locations in a single match (4)
Search Supply Drops (3)
SMG Eliminations (HARD) (3)
BATTLE PASS CHALLENGES
Deal damage to opponents structures with Remote Explosives (8,000)
Stage 1: Search a Chest in Pleasant Park (1)
Follow the treasure map found in Dusty Divot (HARD) (1)
Eliminate opponents in Lazy Links (HARD) (3)
This is the first time Epic has introduced different stages to challenges. The different stages to complete for the search chests challenge can be seen below:
Stage 1: Search a chest in Pleasant Park
Stage 2: Search a chest in Retail Row
Stage 3: Search a chest in Lucky Landing
Stage 4: Search a chest in Greasy Grove
Stage 5: Search a chest in Paradise Palms
A Battle Star will be awarded for each stage, meaning there will still be 5 Battle Stars awarded for this type of challenge. It should make this challenge easier to complete as we have seen in the past that players would need to search seven chests in the same location to complete the challenge. Having staged challenges could mean that we could be seeing different types of challenges added in the future, similar to searching the rubber duckies/ hungry gnomes challenges we've seen in the past.
We will reveal the location for the treasure map challenge shortly.