The challenges for Fortnite Season 5, Week 9 are now live! The challenges are usually released on Thursdays, but due to the v5.4 update being delayed the challenges were pushed back to Friday. You can see the official challenges below:
Fortnite season 5 week 9 challenges (chapter 2)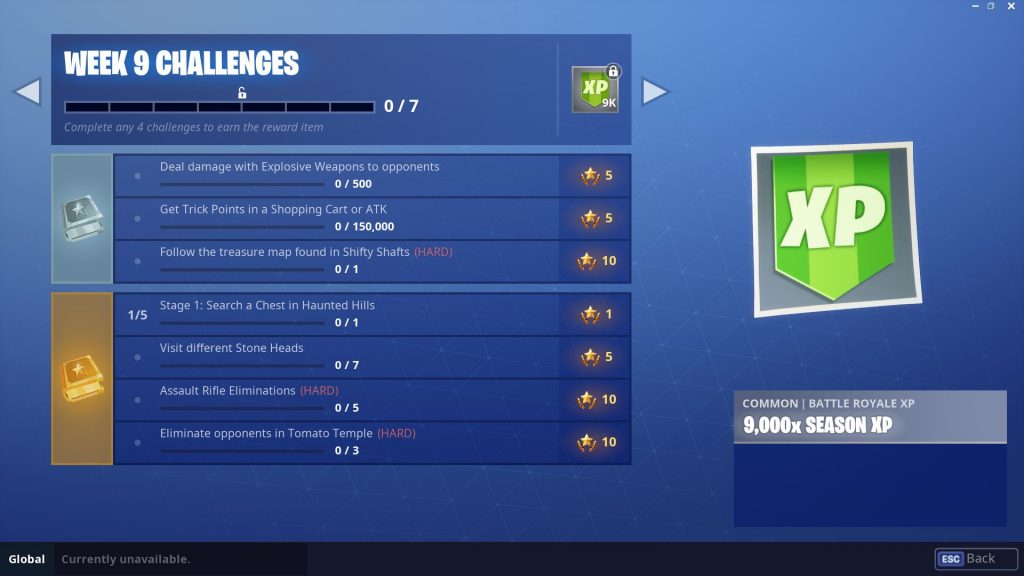 FREE PASS CHALLENGES
Deal damage with Explosive Weapons to opponents (500)
Get Trick Points in a Shopping Cart or ATK (150,000)
Follow the treasure map found in Shifty Shafts (HARD) (1)
BATTLE PASS CHALLENGES
Stage 1: Search a chest in Haunted Hills (1)
Visit different Stone Heads (7)
Assault Rifle eliminations (HARD) (5)
Eliminate opponents in Tomato Temple (HARD) (3)
There is another stage challenge for this week, which is the 'search a chest' challenge. Players will need to search a chest in different POI's and will receive one Battle Star for each stage completed. All of the five stages of the challenge can be seen below:
Stage 1: Search a chest in Haunted Hills
Stage 2: Search a chest in Shift Shafts
Stage 3: Search a chest in Lazy Links
Stage 4: Search a chest in Tilted Towers
Stage 5: Search a chest in Risky Reels
We will be releasing tips on how to complete the challenges shortly.