There are new challenges released every week in Fortnite Battle Royale, which help players to increase in level and tiers and there are seven challenges to complete for each week. Three of the challenges are available for Free Pass players and the remaining four can only be completed for Battle Pass Players. The Fortnite Season 6, Week 8 Challenges are now live and can be seen below: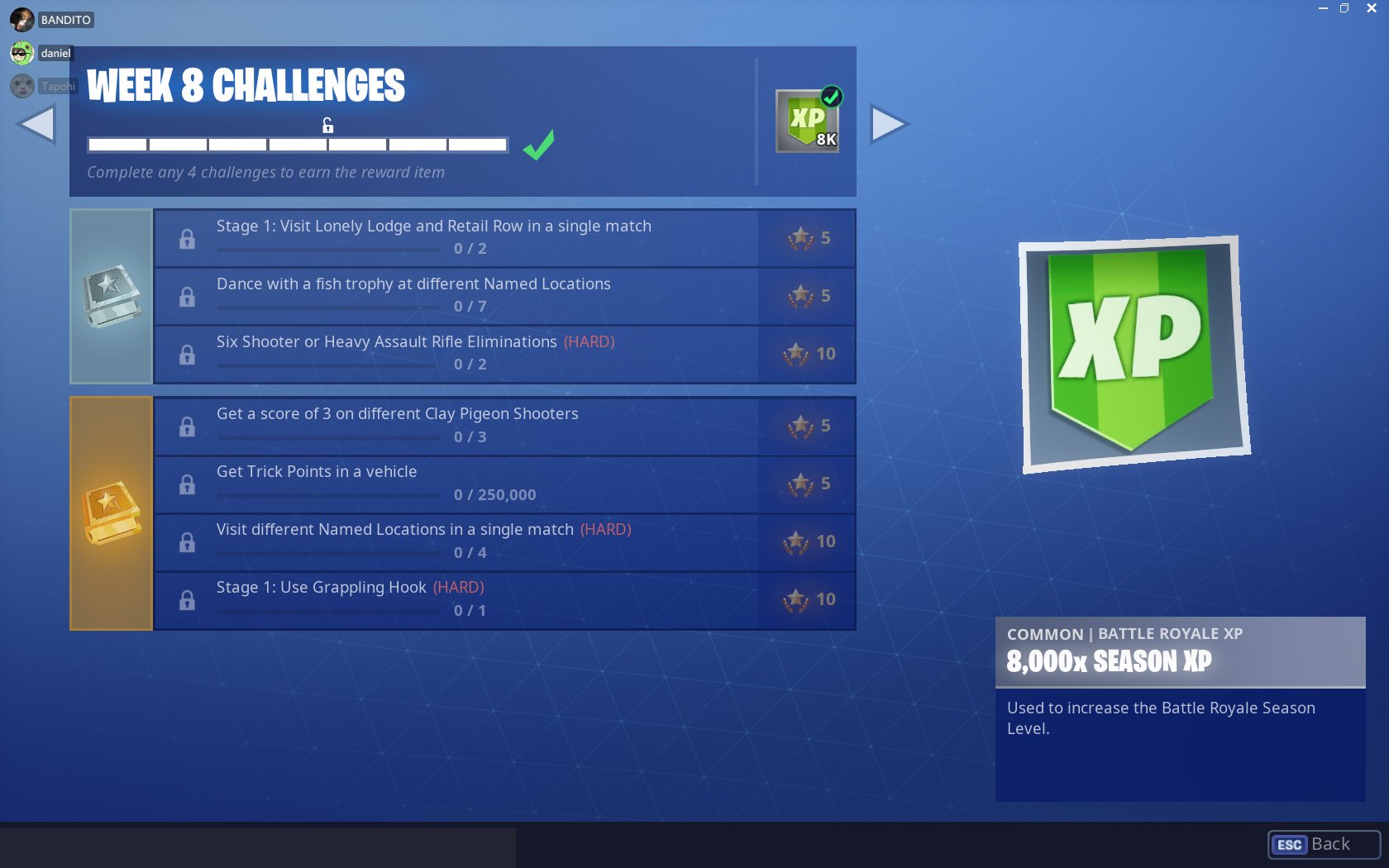 Free Pass Challenges
Stage 1: Visit Lonely Lodge and Retail Row in a single match (2)
Dance with a fish trophy at different Named Locations (7)
Six Shooter or Heavy Assault Rifle Eliminations (2)(HARD)
Battle Pass Challenges
Get a score of 3 on different Clay Pigeon Shooters (3)
Get Trick Points in a vehicle (250,000)
Visit different Named Locations in a single match (4) (HARD)
Stage 1: Use Grappling Hook (1) (HARD)
Most of these challenges are quite straight forward and can be completed quite easily, but we will show the locations of the fish trophies and Clay Pigeon Shooter locations shortly, as well as a cheat sheet for this week.
There are two challenges this week that are stage challenges. As with all previous stage challenges, the next stage of the challenge will be revealed once you have completed the first stage.
Remember, the challenges will only register as being completed if you complete the match, by either killing yourself or being killed by an opponent. If you want to complete the challenges quickly, it's best to kill yourself.
Once you have completed all the challenges for this week, you will unlock a loading screen from the Hunting Party challenges. Providing you have completed all previous weeks challenges, you will unlock Hunting Party Loading Screen #8. This was leaked in the v6.30 update and we will be revealing the location of the hidden item shortly.
There are now only two weeks left of the season!