The Fortnite servers are down today (August 16th, 2022) in order to prepare for the v21.40 update. Players are wondering when the Fortnite servers will be back up from scheduled downtime and how large the download file size is.
We're finally getting a new Fortnite update after a month without one. Epic Games employees have been on a month-long break, resulting in no new content being added to the game since the release of Fortnite version 21.30 which was released on July 18th.
Thanks to data miners, we knew the 21.40 Fortnite update would be released on August 16th, 2022. We also knew that the fourth major update of chapter 3 season 3 would feature the release of the Dragon Ball Super collaboration.
Players can expect a few skins and other cosmetics, seven weeks' worth of challenges, and free cosmetics for completing said challenges. There should also be a couple of POIs being added to the game, which was featured in the gameplay trailer for the collaboration.
To prepare the Fortnite servers for the v21.40 update, Epic Games have put taken the servers offline for scheduled maintenance. Here's when to expect the servers to be back online along with how long the download file size is for v21.40.
Are the Fortnite Servers Down? 16 August 2022
The Fortnite servers are down on August 16th, 2022. Epic Games announced on the Fortnite Status Twitter account that they'll go down at 4 AM ET. As usual, matchmaking will be disabled thirty minutes prior but players in a game will be able to finish it.
Here's the tweet if you missed it: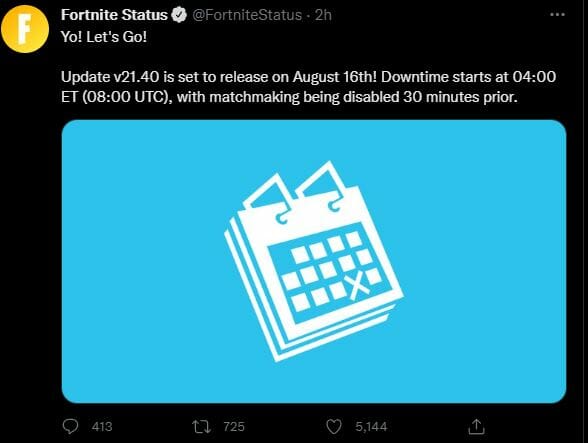 When Will the Fortnite Servers Be Back Online After Downtime?
Epic Games never state how long the Fortnite servers will be down when scheduled downtime is announced. However, more often than not, the servers are back online after two hours. If that's the case with the release of the v21.40 update, the servers should be back online at 6 AM ET / 11 AM GMT.
How Big is the v21.40 Fortnite Update Download File Size?
We'll update this section of the article when we know the download file size for the v21.40 Fortnite update on all platforms including PlayStation, PC, Xbox, and handheld devices.
PC download size – 1.5 GB
PS5 – 3.07 GB
Xbox – 2.75-3.4 GB
Update: Servers are still down as of 11:46 AM BST / 6:46 AM ET. It's likely Epic is prolonging downtime to ensure servers are stable due to the likely demand of everyone trying to log in to experience the Dragon Ball x Fortnite collaboration.
Update 2: It looks like the servers are back up!