An image has surfaced on the PlayStation Store that suggests players will receive a free glider, Tie Whisper, from the Fortnite Star Wars Event.
Epic Games announced on Saturday, December 7th that there'll be a live Fortnite Star Wars event. The blog post states that on Saturday, 14th at 2pm ET, J.J. Abrams will reveal never seen before footage from the upcoming Star Wars: The Rise of Skywalker.
The event will take place at Risky Reels, and the stage has been set for the event. Risky Reels has been cleared out slowly, and in today's update, the transformation of Risky Reels has been completed.
Free Fortnite Tie Whisper Star Wars Glider Leaked
There were a dozen encrypted files added in today's v11.30 update, some of which were leaked by dataminers. However, due to an accidental leak by PlayStation, one of the Star Wars gliders has been leaked ahead of time.
Popular dataminer, ShiinaBR, received an image from two Discord users which clearly shows that players will receive a free Fortnite Glider called 'Tie Whisper'. The image also mentions the Star Wars live event.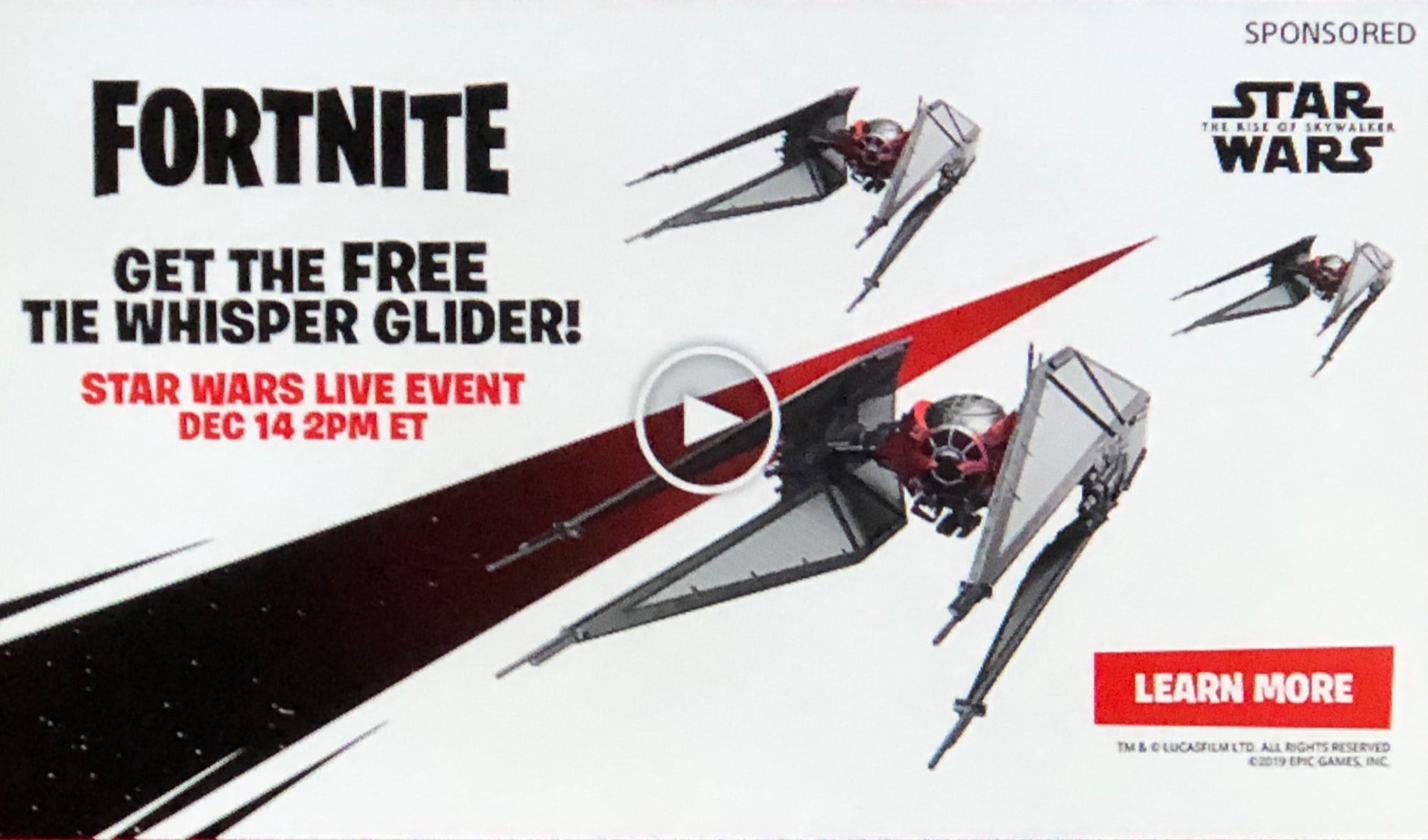 Dataminers have leaked that there will be challenges for the live event, but as they're encrypted, the full challenges cannot be leaked ahead of time. It's likely that upon completing the challenges, players will receive the free 'Tie Whisper' Fortnite Star Wars glider.
According to dataminers, it looks as though there's several encrypted Star Wars Fortnite skins that could be making their way into the Fortnite Item Shop on saturday. It's also possible that these skins and any other cosmetics could be sold as a bundle, but we'll have to wait and see.
We'll keep you updated if any of the Star Wars cosmetics are decrypted before the Fortnite Star Wars event takes place on Saturday, 14th December along with any challenges that may be part of the event.