Here is a concept on how to display the statistics from the previous match in Fortnite Battle Royale, after you have left the game.
Epic Games are always improving and changing Fortnite by adding new items/weapons, bug fixes and changing the UI. The Fortnite Community have also thought of different ways in which the gaming experience for the game could be improved and there are many cases where the developers have incorporated these ideas into the game.
Reddit user KavensWorld has thought of a new way in which statistics from the last match can be seen in-game. At the moment, you can only see the stats of the game you have just placed whilst you are still in the game. The statistics that show on the screen can be seen below:
Eliminations
Assists
Revives
Accuracy
Hits
Critical Hits
Distance Travelled
Material Gathered
Material Used
Damage Taken
Damage to Players
Damage to Structures
Many players actually exit the game as soon possible once they have been killed, most likely due to frustration, and forget to look at the stats before leaving. KavensWorld has suggested that the stats for the last game played should show on the right side of the screen once you have left the game and are in the lobby, as can be seen below: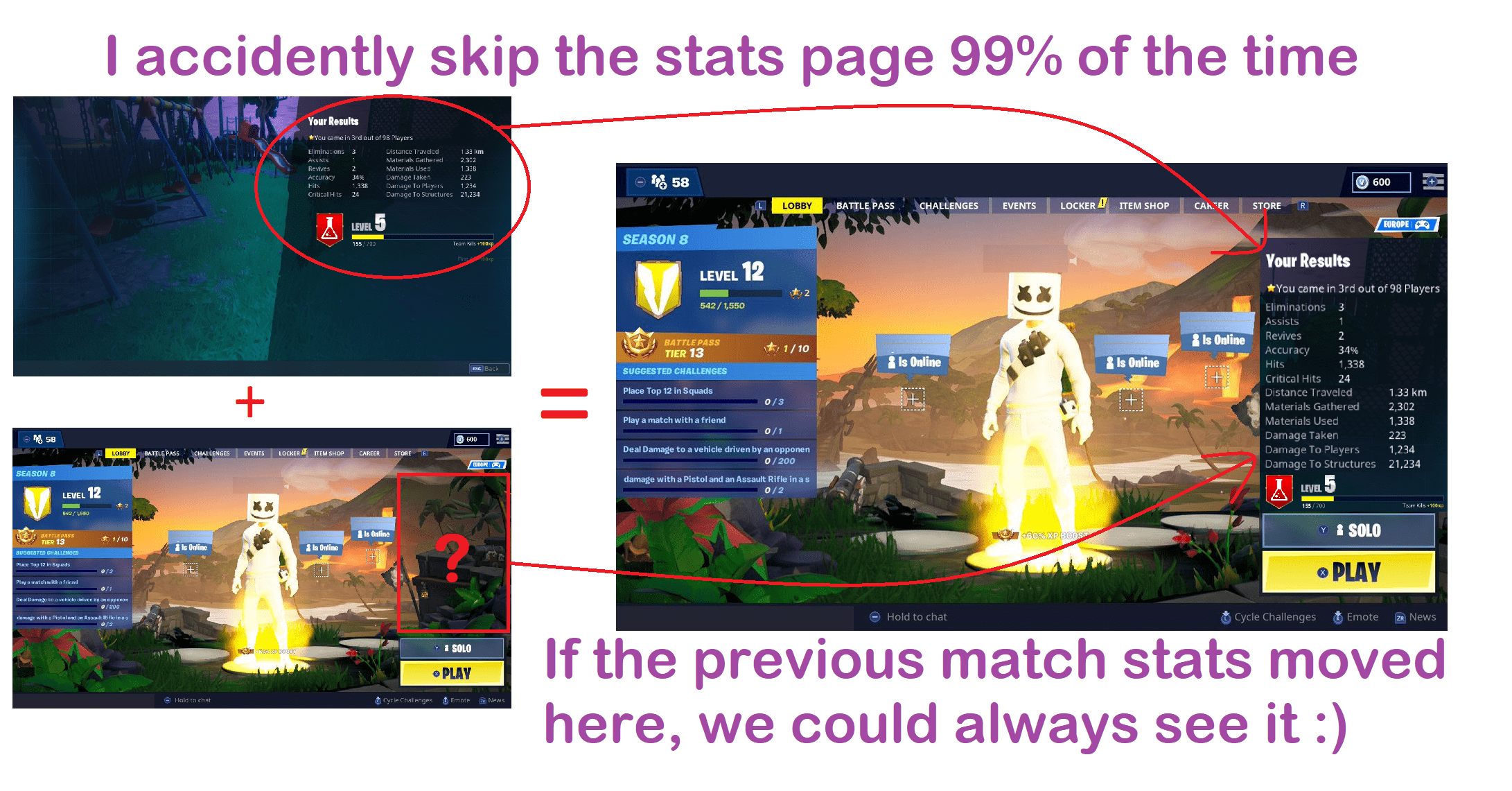 Having the stats showing here would mean that would not be missed as they are clearly visible and it would not be blocking anything else of the screen. In the comments, there were some players that thought that this was a good ides, but there should be an option for players to disable it if wanted.
It may be better if these statistics were actually visible in the 'Career' tab so that it will not take any space on the lobby screen and players who are interested in seeing how they performed in the last match can still access the information easily.
What do you think about this concept? Do you keep forgetting to check your stats before you leave the game? Let us know in the comments below.