Here's where to find the NPC locations of Guaco, Bunker Jonesy, and Cuddle Team Leader in chapter 3.
Thankfully, we had a brand new map with the launch of Fortnite chapter 3. Notable characters were added to the game in chapter 2 that provide players with different services or weapons. There are a couple of new NPC's around the map with a new season as well as some returning characters.
As the season progresses, we'll see more characters added to the season 1 chapter 3 map. For now though, there are enough to keep things interesting. Epic Games usually task players with finding or talking to NPC's as part of the weekly challenges and this season is no different.
For the week 3 challenges, players need to talk to Guaco, Bunker Jonesy, and Cuddle Team Leader. Here are their locations where you can find and talk to them on the new map.
Guaco Fortnite Location
Guaco is probably one of the easiest characters you can find on the Chapter 3 map because you know he'll be in the Taco shop. You can find and talk to Guaco in the returning chapter 1 location, Greasy Grove.
He's in the restaurant which is the largest building at the named location on the west side. You'll find that provide a rare sidearm pistol, a Chilli Chug Splash, and full health. Here's the location on the map: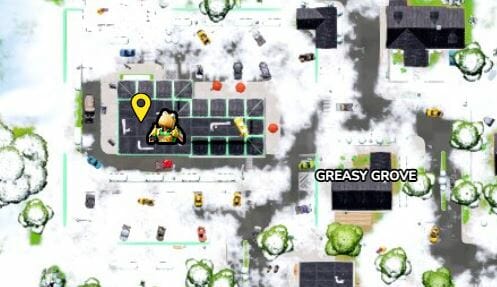 Bunker Jonesy Fortnite Chapter 3 Location
It might be slightly difficult to talk and find Bunker Jonesy because there are a lot of members of the clan that look similar to him. Thankfully, this season he doesn't change where he spawns like he did in chapter 2.
Last chapter, there were three or four different locations where he would spawn, so you'd either have to get a vehicle to find him quicker or ride your luck and find him on your first drop. In chapter 3, you can find and talk to Bunker Jonesy at the Joneses named location.
He's on the south side near the largest building. Here's his location marked on the map:
Cuddle Team Leader Location
Last but not least we have Cuddle Team Leader. All of the NPC's for this challenge are easy to find because of the names on the map. Guaco was obviously going to be at Greasy Groves Taco shop, Bunker Jonesy at The Joneses and Cuddle Team Leader can be found on the west side of the map at Camp Cuddle.
Cuddle Team Leader can be found on the north side of the named location inside the large building with the pink roof. You'll usually find them on the bottom floor on the left side near the wooden stairs. Here's the map location: