Finally. Greasy Grove is coming back to Fortnite in chapter three season one.
We're still waiting for Epic Games to announce when Fortnite chapter 3 season 1 will be releasing. We don't have anything official, but both PlayStation and Xbox support have stated that it'll start tomorrow, Sunday December 5th at 10 AM ET.
Since the conclusion of Chapter 2, we've been watching Jonesy floating in the ocean stranded but slowly making his way to the new island which was somehow underneath the chapter 2 map.
We know what the new map looks like as it was revealed from the Battle Pass trailer that leaked. Although the servers are down, data-miners are still somehow getting information about the new map and chapter even with new files available to download and data-miner as of yet.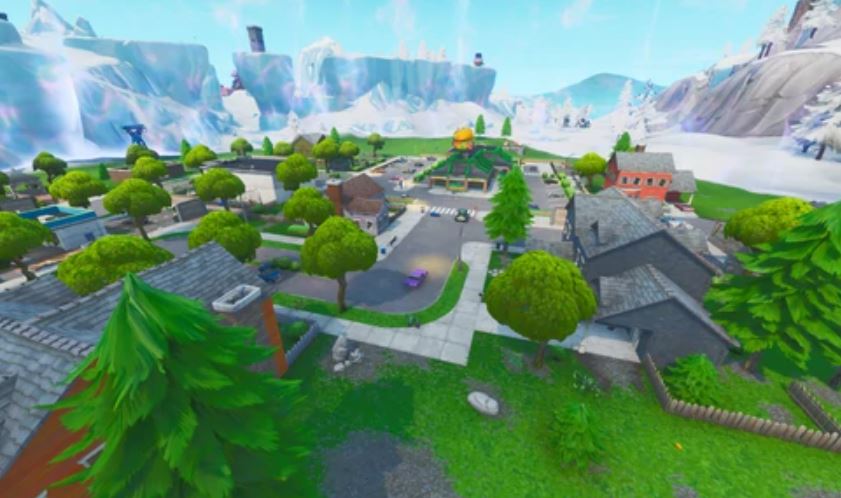 However, the starter pack for the new season has been leaked and now we have all of the names of locations and POI's on the new map. We've also seen a large chunk of the new map which Epic have slowly been revealing through the Fortnite Flipped campaign.
We already covered the news that both Shifty Shafts and Wailing Woods are making a return but we have more news regarding chapter 1 map locations making a return. Both Greasy Grove and the Loot Lake Island are coming back in the new chapter.
Greasy Grove Returns
In the leak of all the POI's on the new map, the name that stood out to most was Greasy Grove. Players have been waiting for the return for Greasy Grove since the start of chapter 2. Now only has the leaked confirmed Greasy Grove coming back, but the new section of the map that's been uncovered through Fortnite Flipped confirms it.
The popular chapter 1 location was an original location since the launch of the Battle Royale game mode. The POI was removed in chapter 1 season 7 when a pool of ice covered it and made a short return near the middle of season 10. However, it didn't return in chapter 2 like most of the player base wanted.
Now that it's finally coming back, it'll be interesting to see how many changes have been made if any and how many players will land there regularly. Either way, we're happy to see Greasy make a return after more than two years.
Loot Lake Island Is Coming Back to Fortnite
Although we don't have confirmation from what's been revealed so far on the uncover the Island map, we know from leaks that the island from Loot Lake will return. We're not sure if it'll be as it was in chapter 1, but I'm sure there'll be some happy players.