Here is how to claim the Newcastle Stone Skies Skin and other cosmetics in Apex Legends if you have a Twitch Prime account.
Every month in Apex Legends, a new bundle is released exclusively for Twitch Prime members for free. These bundles contain a Skin for a particular Legend as well as some other cosmetics, which is typically a Banner for the same Legend as well as a Weapon Skin.
These bundles are only available for a limited time, so it's best to claim them as soon as they are made available as they likely will not be released again. For you to be eligible to claim these bundles, you must have an Amazon Prime account and an EA account and these must be linked for you to be able to claim the rewards on your account. There is only one bundle available for an account.
Free Apex Legends Newcastle Stone Skies Skin – May 2022 Twitch Prime Bundle
As previously mentioned, there is a new bundle released every month for you to claim for free and the bundle for May 2022 is available to claim now.
Here is a step-by  step guide on how to claim the Newcastle Stone Skies Skin bundle:
Go to the Amazon Prime Gaming website and search for Apex Legends, or click here for the direct link.
You will then see the 'Newcastle Stone Skies Bundle'. Click 'Claim now'.
Enjoy the in-game content! If you have the game already open, restart the game and you should see a message which says the Prime Bundle has been claimed.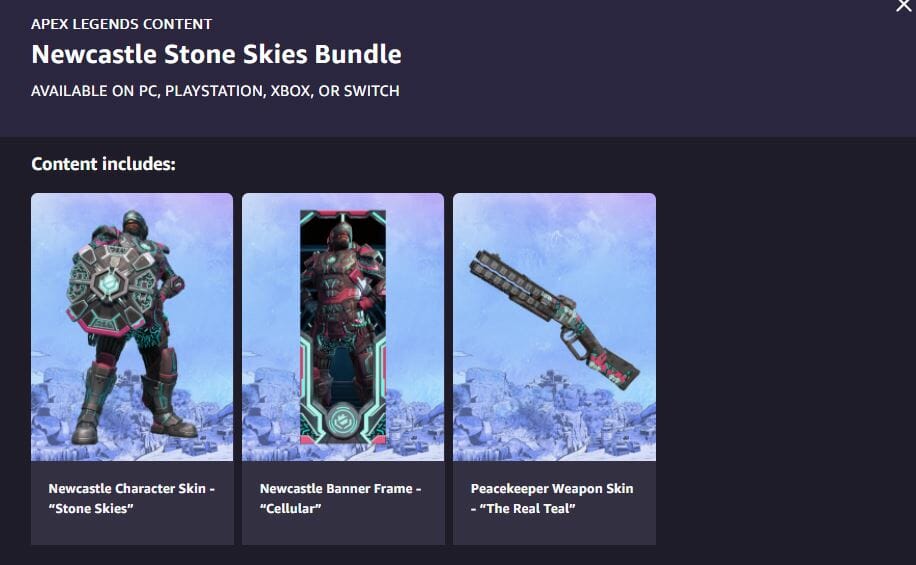 Here is what you will get in the Prime Gaming May 2022 Apex Legends Bundle:
Newcastle Stone Skies Skin (Epic)
Newcastle Banner Frame (Rare)
Peacekeeper The Real Teal Skin (Rare)