Currently in Fortnite Battle Royale, there are seven new challenges that are released every week for Battle Pass players and once completed, players receive XP (Experience Point) to help them to level up. Most players tend to complete these challenges as quick as possible to level up as soon as possible. These challenges can vary from eliminations with different weapons, opening chests at different POI's and searching for different items in Fortnite. These challenges encourage players to land at different areas of the map and explore different places.
Reddit user BM-Tweak has suggested that long-term challenges should be implemented in Fortnite Battle Royale to keep players motivated and continue to play the game. He has suggested that once completing certain challenges, players will be awarded with different cosmetics.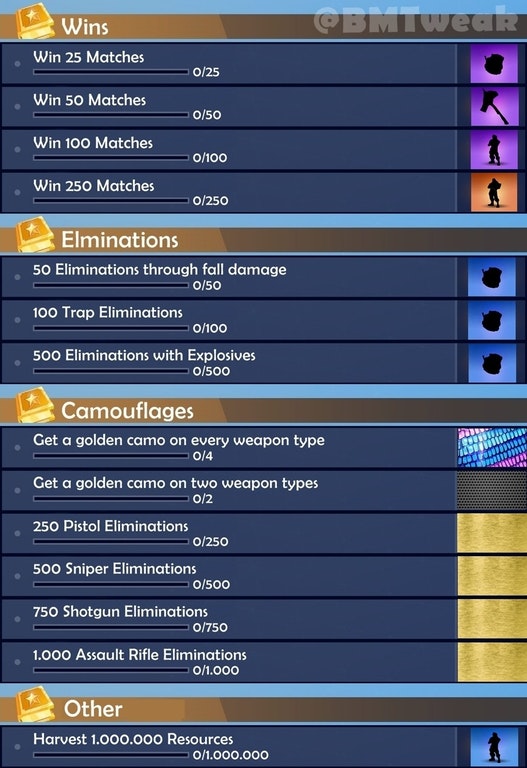 Having different challenges for players to complete will motivate more players to play Fortnite and there will be no time limit on these challenges, which means that players are able to complete challenges at their own pace.
The challenges that have been suggested are wins, eliminations and harvesting resources. It may be better to have one challenge per type and then change once it has been completed, e.g. once completing "Win 25 matches" it would change to "Win 50 matches".
By having these challenges, it would mean that the normal challenges that are released each week for Battle Pass players should be different, i.e. the elimination challenges with different weapons. Epic could be more creative with the weekly challenges and have different items in the game, similar to the Hungry Gnomes and Rubber Duckies challenges we have seen in the past to make them different and not repetitive.
For Epic Games to implement this suggestion, they would most likely award players with XP or stickers rather than cosmetics, when players have reached different milestones. There could be new emotes that are created specifically for rewards for completing certain challenges. This will give players an incentive to complete challenges to get exclusive rewards.