Epic released v6.22 of Fortnite Battle Royale today which saw a few new addtions being added to the game including the Heavy Assault Rifle, a new LTM called 'Team Terror', the Blitz LTM returning and much, much more. When these updates drop, dataminers go through the files to see what new leaked skins and other cosmetics will be coming to the Item Shop, and not only have those already been leaked, a new Vehicle possibly coming to Fortnite has been found: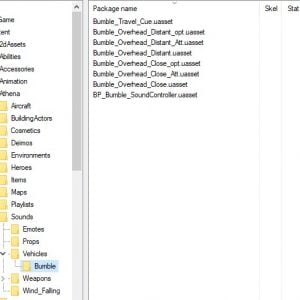 Under the Vehicles file in the Athena files, a new set of files have been added called 'Bumble'. These file names and interesting, with "overhead" appearing often both distant and close. This might possibly hint that this vehicle might be some type of plane, or a means or transport that you fly.
Thanks to Hypex, we have one of the sound files for the vehicle already which you can listen to below:
https://twitter.com/HYPEX/status/1059738767030976513
It'll be interesting to see what this vehicle will be once it's added to the game. With shopping carts, ATKs, Quad Crashers and Balloons a means of transport in the game, we'll likely see one of them removed to make way for this new vehicle.
NOTE: As always, nothing is official and this vehicle may not make it's way into the game. However, items that are leaked do usually make way into the game eventually.