A new Quick Challenge has been added to Fortnite which hints at Captain America coming to the game soon. You will get XP for completing the challenge and here is what you need to do.
The Week 3 Fortnite Challenges are now live in the game and there are a total of eight challenges to complete this week. In addition to the weekly challenges, there is also an Aquaman Challenge and a new challenge for the Build-A-Brella cosmetic, but did you notice that a new challenge has been added in the Quick Challenges.
New Set off fireworks around Lazy Lake Fortnite Challenge
A brand new challenge that has been added in the Quick Challenges is to set off fireworks around Lazy Lake and you are required to set off 5 in order to complete the challenge. There are in fact more than five fireworks that can be found around Lazy Lake, so there is enough to complete the challenge in one match. Here is what the fireworks look like in-game:
Simply interact with the firework to set it off. If you look up into the sky, you will see that once the firework has exploded, it makes the Captain America logo. Here is what it looks like:
Firework Lazy Lake Map Location
Here is a map that shows six of the locations of the fireworks. Remember, you will only need to set of five fireworks in order to complete the challenge.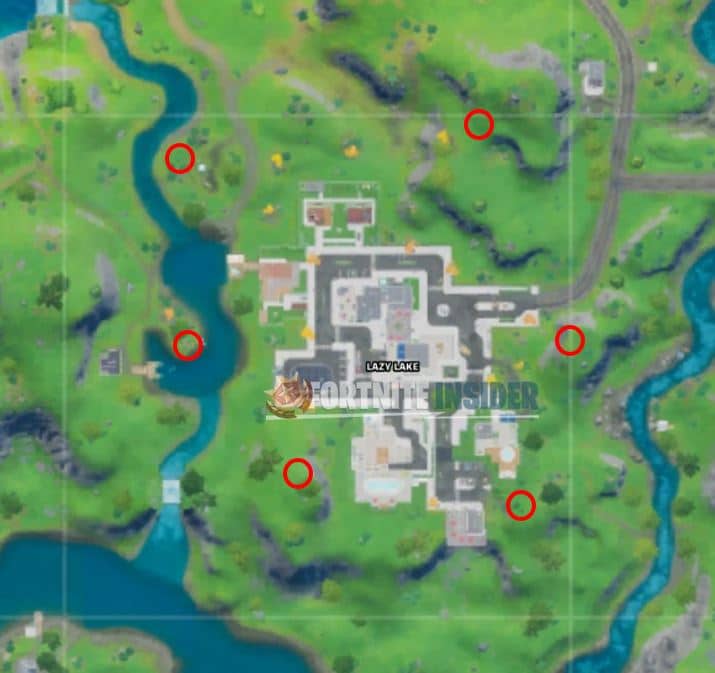 Once you have completed the challenge, you will be granted 14,000 XP. This challenge will likely only be available for a few days to celebrate the 4th July so make sure you get in and complete it soon for the bonus XP.
It looks like the Captain America Skin and Shield will be in the Item Shop today, and you can read more about these cosmetics by clicking here. Are you excited for Captain America to come to Fortnite? Let us know in the comments section below.