We have a brand new Fortnite update today, the 19.01 hotfix update. Here's the patch notes for the January 4th, 2022 update.
Update: Jan 11 2022 Fortnite Update Patch Notes
It's a new year and the Christmas event is still ongoing. Players are still searching why there's an extra present in the cabin. It's a glitch that will be fixed in the next major patch update.
However, players will be compensated for the downtime when the servers were having issues. The Epic Games servers were down for more than three hours and a day later, they were down again, likely due to the amount of players logging into Epic Games to claim the free Tomb Raider game from the store.
We have a new Fortnite hotfix update today, 19.01. Here are the patch notes for the January 4th, 2022 update.
Fortnite Update Patch Notes
This is a hotfix update for 19.01, that means there are no files that players need to download. As expected, there isn't a lot of new content with a major patch update scheduled to release on Tuesday, 11th January.
Today's new Fortnite update introduces a brand new item, the Shield Keg. It was leaked by data-miners when the new chapter launched at the start of December, but has now finally made it's way into the game.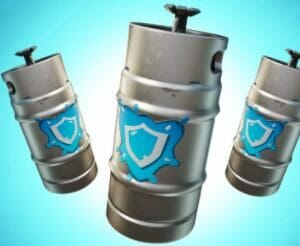 Players can heal health using the Med-Mist spray that was added in the 19.00 update. Now, players can restore your and your allie's health with the Shield Keg. The Shield Keg will spout out shield and restore a player's shield from 0 to 100.
You'll need to be careful where you place the new shield item because you can also restore an enemies' shield if they're close enough. You can find the kegs as floor loot, in chests and supply drops, and by purchasing them from Lt. John Llama and The Scientist NPCs.
What is the rarity of the Wooly Mammoth Glider?
What's the name of this seasons Starter Pack
What is the name for Chapter 3?
There are seven new Battle Pass skins not including the secret skin. Which of these is not the name of a Battle Pass skin?
Which of these POIs is NOT on the Chapter 3 map?
What's the code name for the new map?
Which one of these is NOT a landmark in Chapter 3?
When did the Chapter 2 finale event take place?
When Did Chapter 3 Season 1 Launch?
On what page of the Chapter 3 Battle Pass will you find the Lunar Charge Emote?
What is the name of the additional Skin for Chapter 3, that is not yet released?
How many Loading Screens are there in this seasons Battle Pass?
Which of these features were added in Chapter 3 of Fortnite?
When is this season (chapter 3 season 1) scheduled to end?
In the official Fortnite Chapter 3 Character trailer, who if the first character shown?
When were the Spider-Man Mythic Web Shooters added to the game?
Which one of these is not a new weapon this season
Where is The Sevens hidden home on the map?
How many V- Bucks can you earn if you unlock all of the rewards from this seasons Battle Pass?
A new item, Guzzle Juice, was added this season. What does it do?
Fortnite C3:S1 Quiz
You're FlyTrap! Better luck next time!
You're Grimbles! Sucks to be you
You're Shadow Midas! Congrats!
You're Spider-Man and a sweaty FN player!
Apart from that, the official patch notes for 19.01 don't have anything else apart from reminding players that the Winterfest Christmas event will end on January 6th at 9 AM ET. Be sure to open all your presents and complete the challenges before then.
If you're a PC player, you'll likely have redeemed the Blizzabelle skin, but if you haven't logged in, do so before January 6th to get the skin before it's unavailable to claim.