We have a brand new Fortnite update today, the v18.30 November 9th Hotfix update. Here's what you need to know.
Fortnite Chapter 2 Season 8 ends in less than a month. This season probably has the most updates we've had in chapter 2 so far. We've had three major updates, a smaller update (v18.21), and several content updates.
We have a brand new Fortnite update today, the v18.30 November 9, 2021 update. We knew this update would be coming beforehand thanks to data-miners. We also know that next week on Tuesday, Epic Games will release the v18.40 update, the penultimate update for chapter 2 season 8.
Here's everything you need to know about the November 9th, 2021 hotfix update including what's been added and any new changes.
November 9th Fortnite Update Patch Notes
New Combat Pistol Fortnite Weapon
Data-miners leaked that a new combat pistol would be coming to the game. The new update added the combat pistol to the loot pool. Similar to the combat AR, the combat pistol has a tighter bullet spread and outputs high damage. However, these pros are balanced with the recoil that this weapon has.
You can find and get a combat pistol in Fortnite through chests, ground loot, and from fishing spots. With the inclusion of this new weapon, the standard pistol has now been vaulted.
Here's what the new Fortnite weapon looks like:
Thanks to data-miner Hypex, we have the stats for the combat pistol including damage, headshot damage, damage to builds, fire rate, magazine size, and reload time. The pistol comes in common, uncommon, rare, epic, and legendary.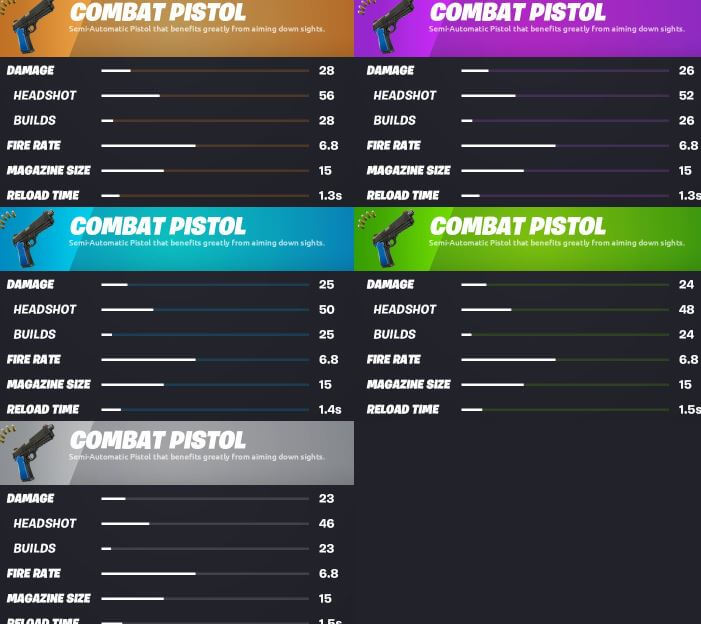 Sideways Rifle Buffed
The Sideways Rifle has received a buff in today's update. The super powered state is reached faster and will remain in that state for longer and is now ore accurate than before. We'll see if the data-miners post any stats regarding the new weapon along with any comparisons pre and post buff.