There's a brand new Fortnite update today (v2.86) on September 15th, 2020. This patch is for PS4 and Xbox One users.
Yesterday, Epic Games needed to take the Fortnite servers down due to a worldwide issue with the Fortnite servers. There was a Fortnite permissions issue that was causing users to be kicked off the servers, and players loading up or restarting the game couldn't connect online.
Epic managed to fix the issue within 2 hours once they took the servers down and are continuing to monitor the situation. However, there are still reports from players stating they still can't open the game. If there is anything reported by Epic on the situation, we'll be sure to update you.
Epic have also released a new Fortnite update today for both PlayStation 4 and Xbox One.
What is the new fortnite update today?
Unfortunately, there's nothing new in the Fortnite update today. The update was released for the PlayStation 4 in order to address an ESP error message players have been getting for a few days.
The Fortnite update for Xbox One was a stability maintenance update. With these updates, nothing new is added to the Fortnite files, so there were no leaks or new features from the update.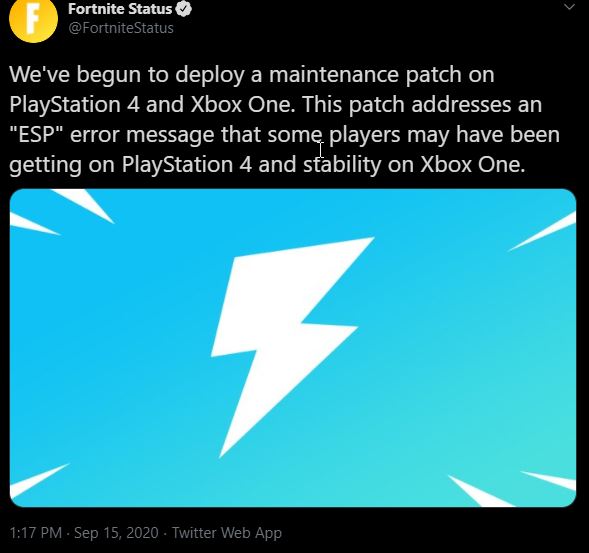 There's a chance we might not have an update next week either. In the last Fortnite update, v14.10, Epic Games added the week 5 challenges. Major patch updates are released every two weeks and two weeks worth of challenges are added to the files which data-miners leak.
However, the week 5 challenges have been added which suggests there won't be an update next week, but nothing is confirmed and there's always the possibility we get an update next week.
Be sure to turn on website notifications to be kept up to date with the latest Fortnite news, leaks, challenge guides and more. Also, feel free to head back to the home page and check out all of our latest coverage on Fortnite.