The next new Fortnite update, v15.20, has just been announced.
UPDATE: Patch notes link added at the bottom of the article
V15.30 New Fortnite update
The last major Fortnite update was on December 15th, 2020. That means we've almost gone a month without any new content in Fortnite Battle Royale with Epic Games employees returning from their holiday break last week.
The last Fortnite update introduced the Christmas Fortnite event for 2020 which went live three days after the update. The Operation Snowdown event ended last week on January 5th, and players have patiently been waiting for the next update.
The new Fortnite update, v15.20, has just been announced with the time it'll go live, a few days after the version was added to the staging servers. Here's what we know about tomorrow's update.
New Fortnite Update
Time and Server Downtime
Epic Games announced that today's Fortnite update will go live today, January 13th. The Fortnite servers will go down for maintenance at 4 AM ET (9 AM UTC/10 AM CET). The Fortnite servers will likely be down for at least an hour and a half and we'll keep you updated with the server status.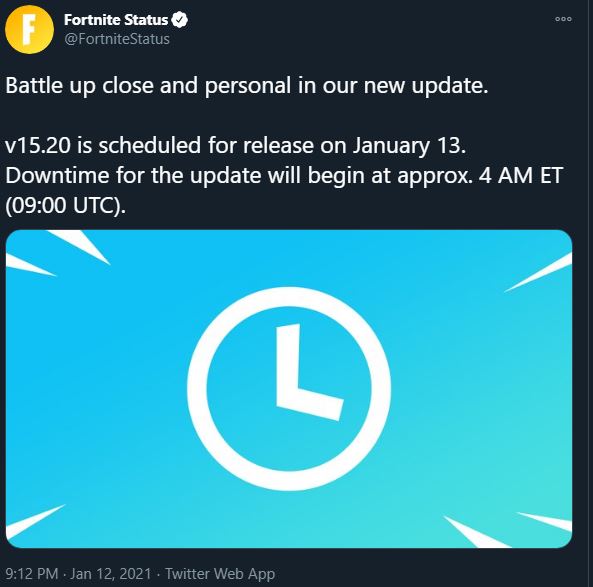 Run Gun New Fortnite Weapon?
In the tweet announcing the new Fortnite update on the Fortnite status Twitter account, they mention "battle up close and personal". Based off this, I'd assume Epic Games will be adding in a new Fortnite weapon, possibly the Run Gun that was leaked by popular data-miner hypex.
The Run Gun is an exotic weapon that allows players to run quicker when the gun is equipped. Here's the gun in action:
Here's the Run Gun exotic SMG from the previous tweet, recoded 2 clips with @ximton for y'all.. It makes you walk/run faster and its still unfinished pic.twitter.com/inINji0g8x

— HYPEX (@HYPEX) December 29, 2020
There's also a chance there'll be a new shotgun being added to the game but it seems unlikely as data-miners almost always leak any files regarding an upcoming weapon. As soon as the patch notes are released, we'll post them as usual. An email usually goes out to everyone in the support-a-creator program a few hours before the servers go down for the update.
Fortnite Leaks
As with all major Fortnite updates, expect data-miners to leak all of the new files that are added in v15.20. Fortnite skins, upcoming weapons, and more will be leaked from the update. We'll be covering all the Fortnite leaks from v15.20 as and when they're posted online.