Here are all of the codes that have been released so far for the Tapping Legends X game in Roblox!
One of the newest game releases for Roblox is Tapping Legends X, made by Shiny Star Games which is the sequel to the Tapping Legends game. So what's different in the sequel? There are many new features, an improved design, and a lot more. You can now collect pets and explore new areas by tapping away!
Tapping Legends X was first released on April 1st 2022 and it already has over 169k visit! All you need to do is to click on the middle hand and you will see your score increasing on the left side of the screen. You can then use these to purchase eggs, with the Basic Egg costing 250 taps and the Rare Eggs costing 75k taps. You can then equip the pets you have on the left side of the screen and the more pets you have, the higher multiplier you will get.
All Tapping Legends X Codes – April 2022
There are codes that have already been released for this game that you can use to help you. If you go into the server and click on the shopping cart on the right hand side of your screen it will show the following: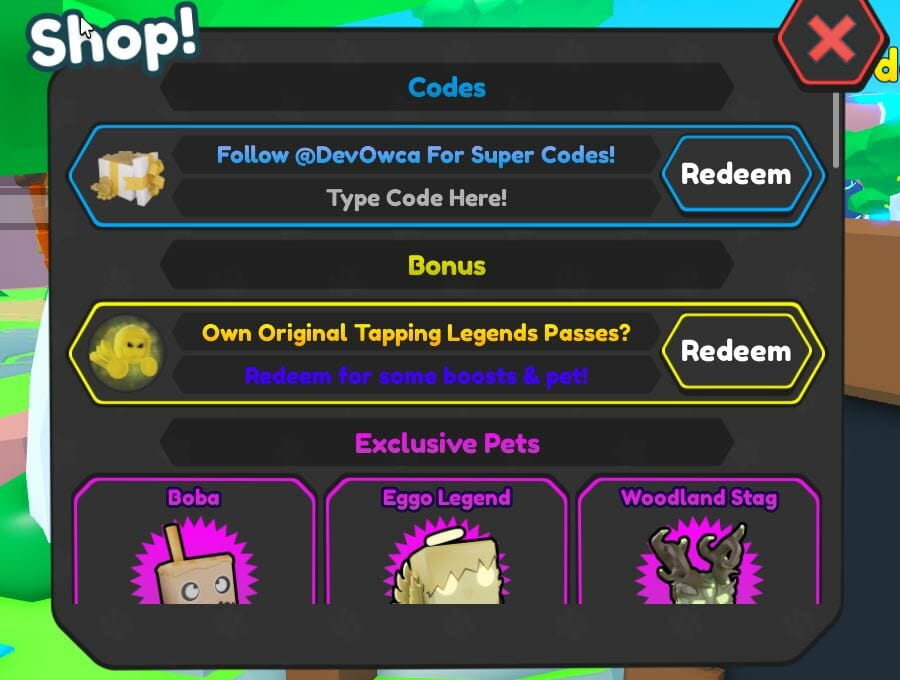 Here you can simply copy and paste the following codes we have for you and then click 'Redeem':
1klikes
fixes1
fixes2
release
Redeeming these codes will award you with some free boosts, in the form of vials. You can then use these vials to increase your tap multiplier, but they only last for 15 minutes each, so use them wisely! You can see the vials you have by going into the shopping cart and scrolling right at the bottom.
This is where you will also be able to use the ones you have and purchase more if you want to with Roblux. Here is what the screen looks like:
All codes are tweeted by the developer on Twitter so make sure you give them a follow, @OwcaDev. We will keep this list updated so you have all the latest codes!