The ninth week of Season 6 is already here and after this week, there'll only be one more week left of challenges. As with every week, there are 3 free pass challenges and 4 Battle Pass challenges. Last week we had a new challenge where players had to dance with fish trophies at different named locations. Epic have added a new challenge that we haven't see before to this week as well, with the "get a score of 10 or more on different Carnival Clown Boards challenge being introduced this week. Thanks to It's Energie, we have a cheat sheet to help you complete the challenges for week 9 much faster: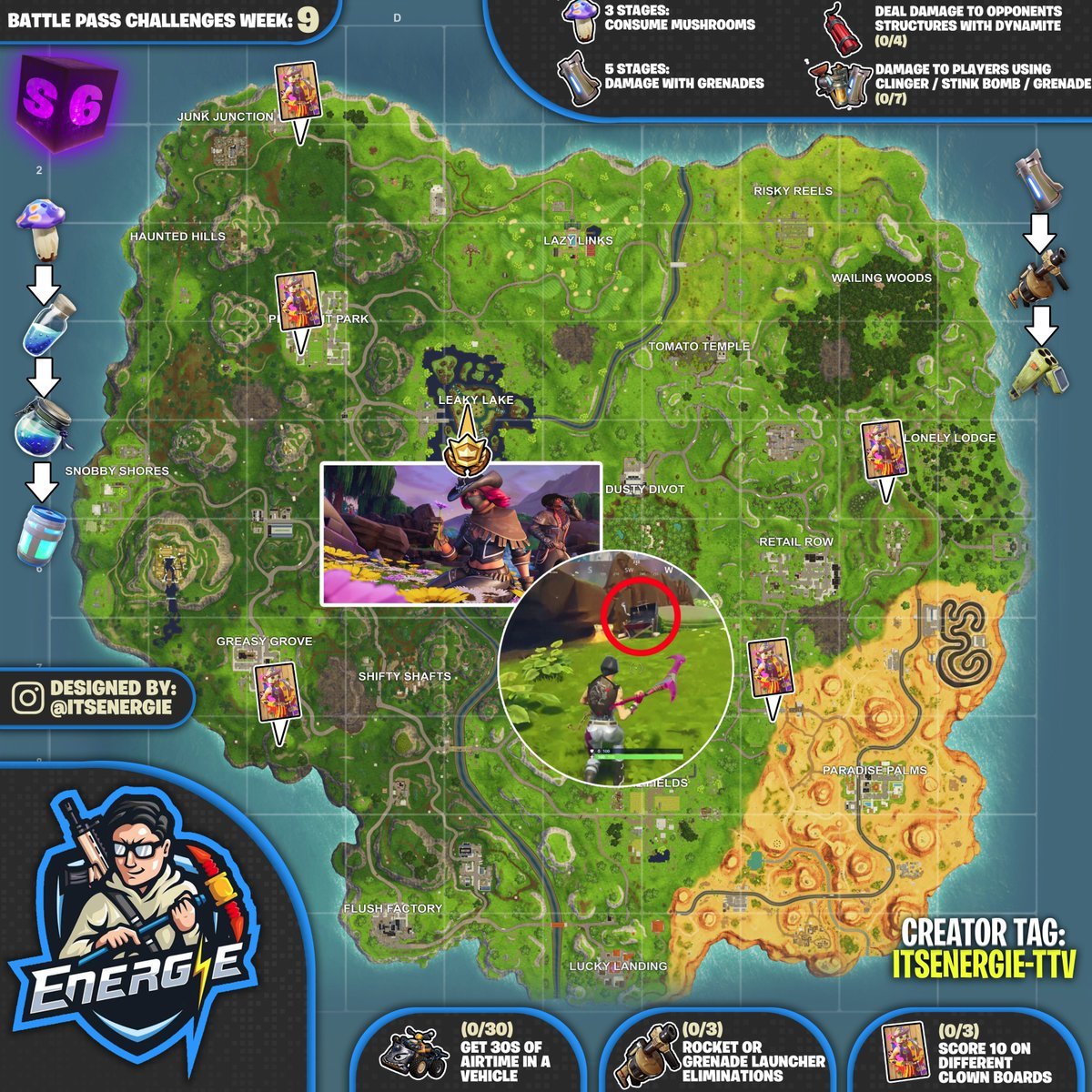 Here are the full challenges for Season 6, Week 9:
Free Pass Challenges
Get 30s of airtime in a vehicle (30)
Get a score of 10 or more on different Carnival Clown Boards (3)
Stage 1: Consume Mushrooms (5)(HARD)
Battle Pass Challenges
Deal damage to players with a Clinger, Stink Bomb or Grenade (300)
Deal damage to opponent structures with Dynamite (10,000)
Rocket or Grenade Launcher Eliminations (3)(HARD)
Stage 1: Deal damage with Grenades to opponents (100)(HARD)
The stages for the stages challenge in the free pass challenges start with consuming mushrooms. The other stages are consume a small shield potion, big shield and finally to consume a chug jug. The stages for the Battle Pass stage challenge is to deal damage with grenades, grenade launcher and quad launcher.
The cheat sheet map highlights the location of the hidden Battle Star for the Hunting Party challenge which can only be seen in-game once you've completed all the week 9 challenges. The location of the Battle Star is in the middle of Leaky Lake.
The cheat sheet also highlights all of the locations of the Carnival Clowns Board, in which you need to get a score of 10 or more at 3 different locations in order to complete the challenge.