Another day, another Quordle to add to the streak. Here are our tips, hints, and the answers to Quordle 52, released on 17th March 2022.
Wordle is the king of the daily word games right now, but Quordle isn't too far behind. Originally launched at the end of January, the game has seen a rapid rise in the amount of total and daily players.
A couple of weeks ago, the information section of the site stated that there were 500,000 daily players and a total of one million players. Fast forward to today, and the site now states there are over two million daily players with a total of fifteen million players.
Instead of one word, players need to guess four five-letter words in nine tries or less. Everything else works the same as Wordle. Get the correct letter in the right place, the tile will turn green. Guess the correct letter in the wrong location and the tile will change to yellow. If the letter isn't in the word out all, it'll turn grey.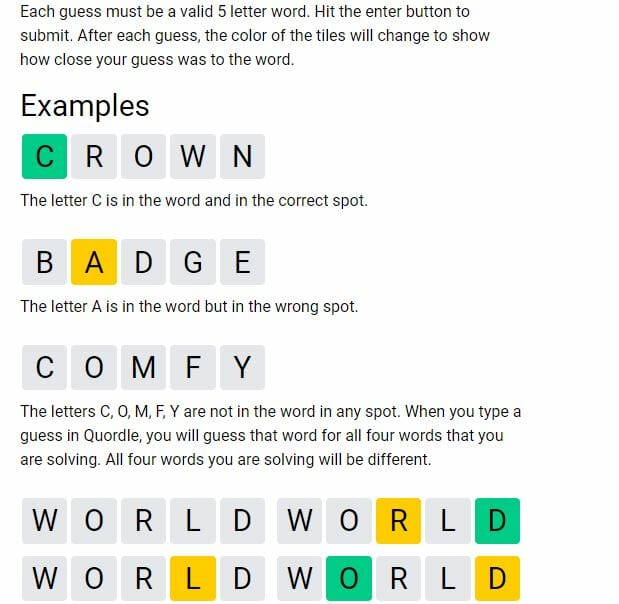 A new daily Quordle is available each day at midnight local time. There's also a practice mode that allows players to play as many games as they want, but it won't count towards your streak. A new Quordle is now available on March 17th, 2022, Quordle 52. Here are our basic tips, hints, and answers.
UPDATE: Click HERE to view the Quordle 53 March 18th tips, hints, and answer
Daily Tips
Starting Words – To get off to the best possible start, use raise, atone, audio, or adieu.
Duplicate letters – Keep in mind that some words may contain duplicate letters.
Google is your friend – If you've discovered more than two correct letters in a word, be sure to google words that begin or end with the letters you have. If the letters are scattered, look up "words with x letter in them."
Quordle March 17 Hints Today
Hint 1: Word 1 begins with an A, 2 with a B, 3 with a W, and 4 with an S.
Hint 2: Word ending – 1: T, 2: T, 3: Y, 4: P
Hint 3: Word 1 – Confess to be true.
Hint 4: Word 2 – Saying something suddenly without thinking.
Hint 5: Word 3 – Stronger than usual wing or more than usual.
Hint 6: Word 4 – Walk with a loud heavy step.
What's the Daily Quordle 52 Answer today?
If the above hints don't help you, the answer for Quordle 52, released on March 17th, 2022 can be seen below: