Here is the answer and some hints for the Dordle words for #52 today, released on March 17th, 2022.
UPDATE: Click here for the hints and answers to the Dordle 53 words!
Dordle requires players to guess two five-letter words simultaneously and there are only seven guesses in which you have to do so. The rules are the same as Wordle where there are no initial clues, but the tiles will change colour once you have made a guess, letting you know which letters you have guessed and placed correctly.
As there are limited guesses, you will need to make sure you choose your words wisely to make sure you reveal as many letters in the word in the fewest amount of guesses.
Dordle Words Hints Today
There may be puzzles that are a little harder to solve so here are some hints we have to help you solve the Dordle #52 words today.
Hint 1: There is are three common letters in the Dordle words today which are A, I, and R.
Hint 2: There are two vowels in both words.
Hint 3: The first word begins with an F and the second word begins with a T.
Hint 4: The first word is a Muslim who decided to live solely on alms and the second word is an animal, native to the forests of tropical America and Malaysia.
What is the Dordle 52 Answer Today? (March 17th, 2022)
Here is how I managed to guess the answers to Dordle 52, starting with the word 'AUDIO', of course! This showed me there is an A in both words, although not placed in the correct position in either word and it also placed the I in the correct position for both words. I then guessed the word 'TRAIL'.
This word showed me there is an R in the first word and the A was still not placed correctly. For the second word, it placed the T in the correct place and showed me there was also an R in this word, but not placed correctly either. I then decided to focus on the second word and rearranged the letters to get the answer on my next guess, which is…
TAPIR!
Guessing this word also helped with the first as it placed the A and R in the correct positions, which only left the first letter and third letter for me to guess. I managed to guess the answer to the first word of Dordle 52 on my next guess, which is…
FAKIR!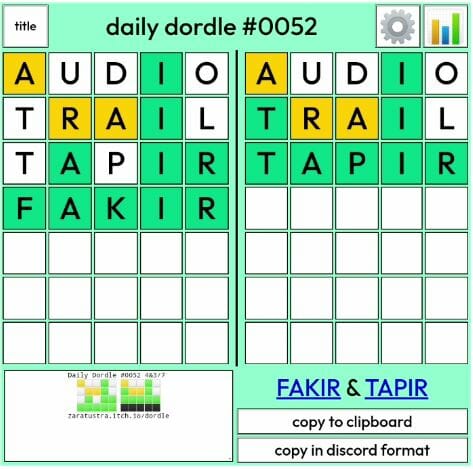 Well done if you managed to guess both answers to the Dordle puzzle correctly today!
Click here for the hints and answers to the Dordle 53 words!