Here is the answer and some hints for the Dordle words for #60 today, released on March 25th, 2022.
UPDATE: Click here for the hints and answers to Dordle 61!
Dordle is a slightly harder version of Wordle as all the rules and mechanics of the game are the same but in Dordle, players are required to guess two five-letter words simultaneously in seven guesses or less. The number of guesses available for solving the words is what makes this so hard as it's only one more guess than Wordle.
Many changes have been made to the game since its release such as the line in the middle of the words so the distinction is clear as well as keeping the guesses on the board so players can compare with friends and family.
Dordle Words Hints Today
There may be some Dordle puzzles that are a little harder to solve so here are some hints we have to help you solve the Dordle #60 words today.
Hint 1: There are no common letters in the Dordle words today.
Hint 2: There is one vowel in the first word and two vowels in the second word.
Hint 3: The first Dordle word begins with a P and the other begins with the letter B.
Hint 4: The first word is another word for mushy and the second word is a word you use to express approval for someone who has done well.
What is the Dordle 60 Answer Today? (March 25th, 2022)
Here is how I managed to solve the Dordle 60 words today. I started with my usual starter word, 'AUDIO' and this placed the U in the correct place for the first word and the O in the second word and also showed me there is an A in the word although it is not in the right place. I then guessed the word 'TANGO' for the second word.
Unfortunately, this word did not place any letters or reveal any more. I decided to focus on guessing the first word instead and went with the word 'SUPER'. This word only showed me there is a P in the word so I guessed the word 'PULLY' next.
This was a great guess as it placed the P, U, L and Y in the correct positions, leaving on the fourth letter to guess. This made it extremely easy to solve the answer to the first word of Dordle 60, which is…
PULPY!
Looking at the second word, the letters I know that appear in the word are A, R and I know it ends in an O. Looking at the words that remain, I decided to make a guess, which happened to be the answer to the second word of Dordle 60…
BRAVO!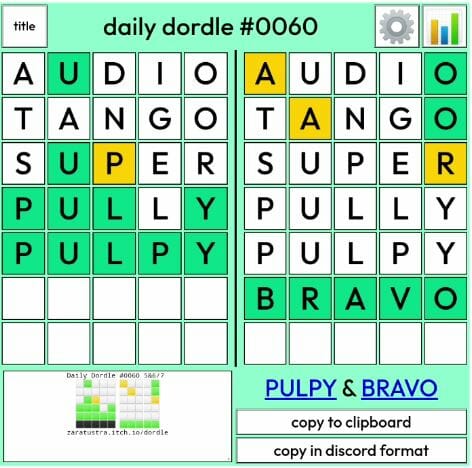 Well done if you managed to guess these words correctly! Click here for the hints and answers to Dordle 61!