Here is the answer and some hints for the Dordle words for #63 today, released on March 28th, 2022.
UPDATE: Click here for the hints and answers to Dordle 64!
Dordle is a slightly harder version of Wordle as all the rules and mechanics of the game are the same but in Dordle, players are required to guess two five-letter words simultaneously in seven guesses or less. The number of guesses available for solving the words is what makes this so hard as it's only one more guess than Wordle.
Many changes have been made to the game since its release such as the line in the middle of the words so the distinction is clear as well as keeping the guesses on the board so players can compare with friends and family.
Dordle Words Hints Today
There may be some Dordle puzzles that are a little harder to solve so here are some hints we have to help you solve the Dordle #63 words today.
Hint 1: There is one common letter in the Dordle words today which is an O.
Hint 2: There is only one vowel in both Dordle words today.
Hint 3: The first word begins with a D and the second begins with a K.
Hint 4: The first word is a woman who is unfashionable and unstylish in appearance and the second word is another word for a small hill or mound.
What is the Dordle 63 Answer Today? (March 28th, 2022)
Here is how I managed to guess the answers to Dordle 63 today. I started with the word 'AUDIO' which showed me there is an O in both words, but also a D in the first word. I then guessed the word 'BLERT' as this contains letters I have not used before.
No more letters were revealed for the first word but it did show there is an L in the second one. I then decided to guess the word 'SCOLD' to see if this was the second. This word did place the O and the L in the correct positions, but no other letters were revealed.
I turned my attention to the first word, where the only letter I know is D and O, so I guessed the word 'DOWNY'. This was a great guess as it placed the D, O, W, and Y in the correct position, leaving only one letter. This made it very easy to guess the answer to the first word of Dordle 63, which is…
DOWDY!
Looking at the second word, I now know there is an N in the word, and looking at the letters I had left, I managed to guess the answer to the second word of Dordle 63 in my next guess, which is..
KNOLL!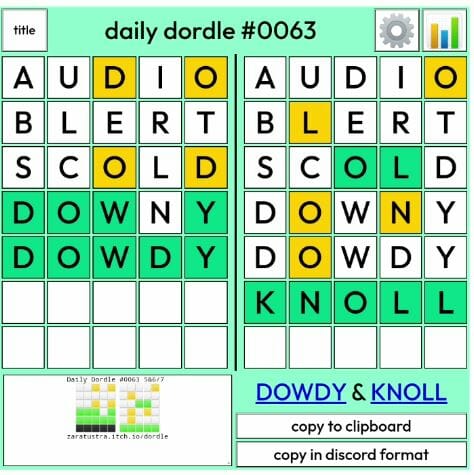 Well done if you managed to guess both words correctly! Click here for the hints and answers to Dordle 64!