Here is the answer and some hints for the Octordle words for #52 today, released on March 17th, 2022.
UPDATE: Click here for the hints and answers to Octordle 53!
Octordle is probably one of the hardest Wordle spin-off games as players are required to guess eight five-letter words at the same time. What makes this game even harder is that players only have thirteen guesses in which to solve the words, which is extremely difficult, so don't worry if you don't get them all right.

There are some other puzzles we would recommend you to solve before Octordle, which are the Wordle, Dordle, and Quordle first as it will help ease you into this game. We have got you covered though as we will be giving you hints to help you to solve the words today, all of which you can see below.
Octordle Words Hints Today
Here are the clues we have for all the eight words for Octordle 52 today.
Hint 1: There is a D in words 1, 6, and 7.
Hint 2: There is a Y in words 5 and 6.
Hint 3: There is an N in words 3, 6, and 8.
Hint 4: There is an X in word 4 only.
Hint 5: There is a J in word 2 only.
Hint 6: Here are the starting letters of each word:
Word 1: L
Word 2: M
Word 3: S
Word 4: S
Word 5: Q
Word 6: R
Word 7: T
Word 8: F
Hint 7: Here is a little description or clue for all of the words:
Word 1: A kitchen utensil – a long spoon used for serving soup.
Word 2: When saying something is important, serious, or significant.
Word 3: To reject with disdain or contempt.
Word 4: When it is number six in the sequence.
Word 5: A question.
Word 6: Being sexually aroused or excited.
Word 7: The transfer of goods or services in exchange for money.
Word 8: Of a better quality.
What is the Octordle 52 Answer Today? (March 17th, 2022)
Here are all of the answers for Octordle 52 released today on March 17th, 2022:
Word 1: LADLE
Word 2: MAJOR
Word 3: SPURN
Word 4: SIXTH
Word 5: QUERY
Word 6: RANDY
Word 7: TRADE
Word 8: FINER
You can see how I got the words in the images below: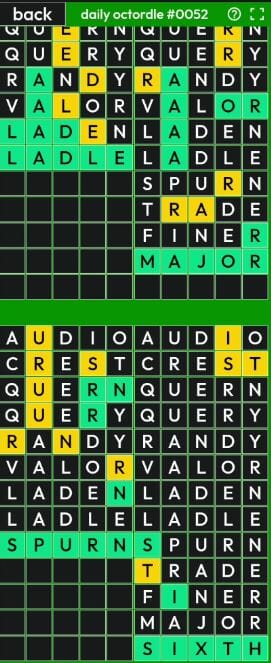 Here is how I solved the last four words to the Octordle 52 puzzle today:
Well done if you managed to guess all eight words correctly today! Click here for the hints and answers to Octordle 53!