Epic Games have announced a brand new Fortnite update for today, v16.20. Here are the early Fortnite patch notes for the update.
It's been two weeks since the first major update of Fortnite chapter 2 season 6. We've not had many content updates since the launch of chapter 2, but we got them almost every other week during the first chapter of Fortnite.
Last week however, Epic Games released a content update of sorts with the release of the Recycler weapon that was originally added to the files a week before in the 16.10 update. The weapon acts as a grenade launcher for the most part.
As expected, we're getting a brand new Fortnite update today and Epic Games have announced the v16.20 update on the Fortnite Status account along with some patch notes.
Fortnite Server Downtime Status
Downtime for the v16.20 Fortnite update will start earlier than most updates. Downtime begins at 2 AM ET (6 AM UTC). Epic have also stated that downtime for this update will be longer than the downtime we've had for past updates.
They've also stated that the patch will be released for downtime a few hours into the Fortnite server downtime. That means leaks from data-miners won't be posted on social media until the download is available for PC. We'll likely see the update available to download at around 9 AM UTC.
v16.20 Fortnite Update Patch Notes
Since the launch of chapter 2, we haven't had any official patch notes detailing all the large and small changes Epic have made in the update. However, in previous seasons we've had emails that highlight the features that'll be added in the upcoming update.
This season, Epic Games have been providing Fortnite Patch notes on the official Fortnite Status account. When they announce a new Fortnite update, they reply to the tweets announcing the update with patch notes and any other important information.
One of the new features we'll be getting in the v16.20 Fortnite update are new wheels for vehicles. It was leaked some time ago that Epi are working on modifications for cars and the Fortnite status account states "trick out your ride with new wheels". These wheels will likely provide a smoother experience on grass, dirt, the road and more.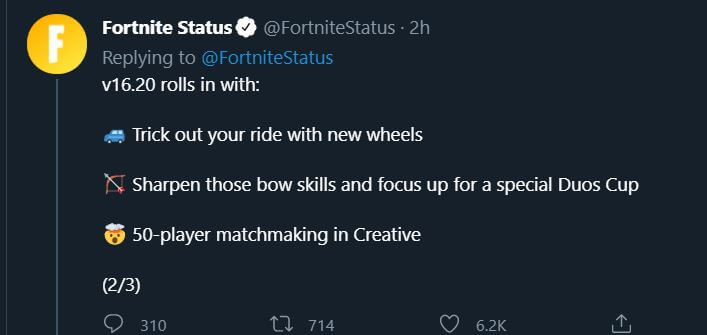 There's also a special duos cup that will be taking place this week according to the Fortnite status Tweet, but there's no other information. Creative players will be happy to know that 50-player matchmaking in creative will be available in today's update. Apart from that, it looks like that's all we'll be getting in the update.
Leaks
As with all major Fortnite updates, we'll be getting leaks from the new files. Expect to see a few skins leaked along with the challenges for the next couple of weeks. We'll be posting all the leaks that data-miners post as soon as they're available.