The name of the Warzone 2 map has been revealed. Al Mazrah will be the map that Warzone players will be dropping on when the game releases in November.
The Call of Duty: Modern Warfare 2 beta is set to go live tomorrow although there are rumors circulating that it could go live after the COD Next stream that'll showcase Warzone 2 along with further information regarding Modern Warfare 2.
The COD Next event is scheduled to go live today at the following time:
9:30 am PT
12:30 pm ET
5:30 pm BST
We've already had numerous leaks for both COD: Warzone 2 and Modern Warfare 2 including the weapons we'll see in multiplayer. We've also been provided a glimpse at one of the Modern Warfare 2 maps that'll be playable in the beta, the Museum map. If you missed that, here's a look at the map:
There have been leaks regarding Call of Duty: Warzone 2 including the removal of loadouts. In the current Warzone game, players are able to purchase their loadout with customized weapons. If leaks are to be believed, players will need to use ground loot weapons and upgrade them by finding attachments.
Thanks to notorious leaker Tom Henderson, we also have the name of the Warzone 2 map along with the POI names and how it'll look on the map.
Warzone 2 Al Mazrah Map POIs Leaked
The name of the Warzone 2 map is called "Al Mazrah". All eighteen POI names have also been leaked which are as follows:
Oasis
Wartorn – Now called "Taraq Village"
Quarry
Oilfield – Now called "Rohan Oil"
Modern City – Now called "Al Mazrah City"
Caves
Dam – Now called "Hydroelectric"
Marshes – Now called "Marshlands"
Harbour – Now called "Port"
Sira – Now called "Sa'id City"
Observatory
Mountain Town – Now called "Al Sharim Pass"
Graveyard – Now called "Cemetery"
Oldtown – Now called "Abkdar Village"
Shipwreck – Now called "Sawah Village"
Fishtown – Now called Sarrif Bay"
Fort – Now called "Fortress"
Airport
Tom also leaked a layout of the map which apparently hasn't changed much since it was originally leaked.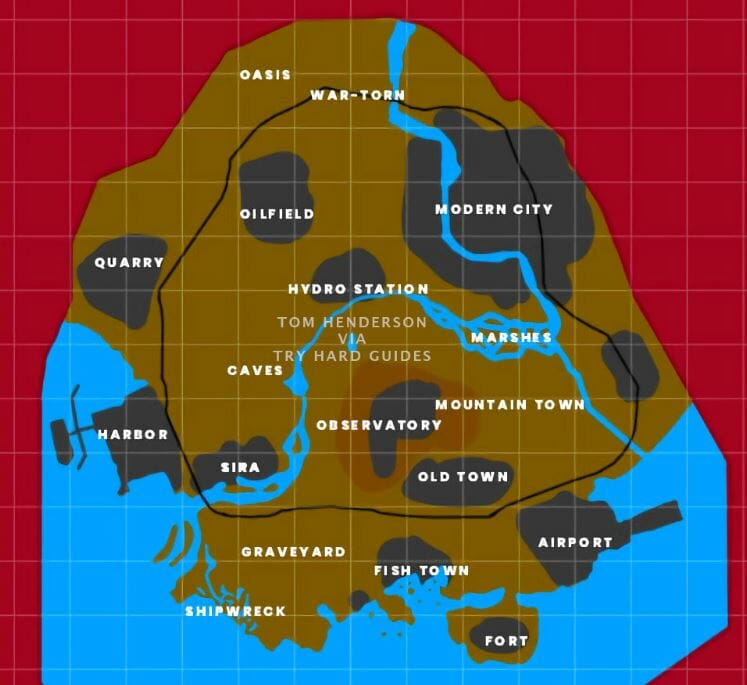 Other leaks for Warzone 2 include the addition of NPCs on the map at random locations, toxic gas being replaced by a dust storm, new contracts for players to complete, and more.
Here are all the other leaks for Warzone 2 so far thanks to YouTuber Metaphor:
NPCs are on the map randomly
Container-based looting as well as floor loot
Different sized backpacks (Storage space)
New contracts Helicopter from HIGHRISE is useable
No more toxic gas coming into the map, it's now a dust storm
Tires can be shot out from cars.
We're only a few hours away from the COD Next event and we'll have you covered with all the latest information that comes from it.