The best way to complete the "take pizza slices from a pizza party item" week 8 challenge.
We have a new set of weekly challenges today. We already knew what they would be last week with the release of the 19.10 update with data-miners leaking them during the scheduled maintenance when the new files were available to download.
Since last season in chapter 2, the weekly challenges have been much easier to complete. This season, Epic have taken some of the extremely easy challenges and mixed them with some challenges that you can't just complete by playing as you normally would.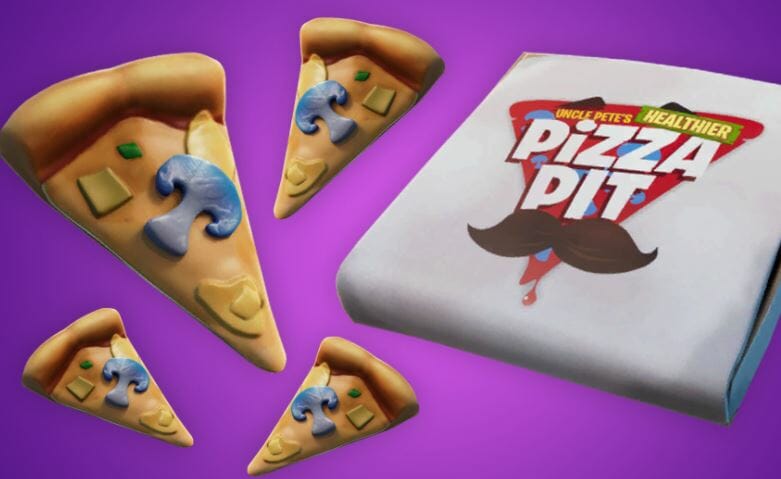 Either way, most of the challenge locations are on the in-game map, so a five year old can complete these challenges without any problems. One of the challenges from week eight require players to take pizza slices from a pizza party item. Here's where to find the pizza party item.
Pizza Party Pizza Slices Fortnite Locations
The pizza party item was added to the game this week in the hotfix update released on Tuesday. Each box contains eight pizza slices and they have the ability to heal players up to 100 health and 50 shield.
They can be found in chests, supply drops, loot llamas, and as ground loot. There's also a 100% spawn and that's by purchasing it using gold bars from Tomatohead. Tomatohead is located in the pizza shop that's on the ground floor of the "big bertha" building.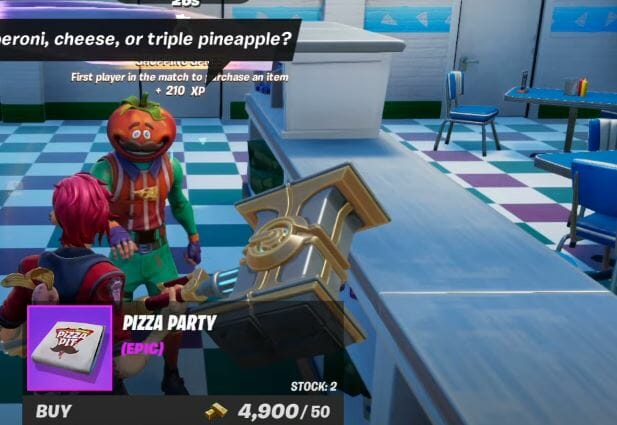 It's always chaotic there, but it's the only way to guarantee you can find and take pizza slices from the pizza party item. Alternatively, you can land at locations where there's a lot of chests or floor loot such as the Daily Bugle, or Chonker's Speedway.
Once you have a box, you'll need to throw it on the floor in order to be able to take pizza slices from the pizza party item. To complete the challenge, you'll need to take a total of two slices.