Here are all of the answers for the 7 Little Words daily puzzle as well as the four bonus puzzles released on 31st January 2022.
7 Little Words is a very popular word game you can play on your phone and the aim of the game is to use the 20 word combinations at the bottom of the screen to answer the seven clues given at the top. All of the twenty letter tiles can be rearranged to answer the clues, but it's the players job to figure out what the answers are, but you are also told how many letters each answer is.
There is a daily puzzle you can complete in 7 Little Words, but not only that, there are also four more bonus puzzles you can complete every day, making five in total. We know that some of the clues for the 7 Little Word daily puzzles can be difficult, but we are here with all the answers to help you complete them all, which you can see below.
7 Little Words Daily Puzzle 31st January 2022 Answers
For the 7 Little Words daily puzzle released on 31st January 2022, players are given the letter tiles: CO, PR, GLO, AL, VES, ATS, BO, TIV, ES, KP, UNC, ISE, OM, BAC, ALE, NGR, XAN, DER, ACK, FES. Here are the clues and the 7 Little Words answers for the 31st January 2022 daily puzzle:
Telephone inventor Bell – 9 letter word – ANSWER: ALEXANDER
Finger warmers – 6 letter word – ANSWER: GLOVES
Annual Celebration – 8 letter word – ANSWER: FESTIVAL
Hiker's "suitcase" – 8 letter word – ANSWER: BACKPACK
Word in graduation card, say – 8 letter word – ANSWER: CONGRATS
Something given and kept – 7 letter word – ANSWER: PROMISE
Acts like a runner ball – 7 letter word – ANSWER: BOUNCES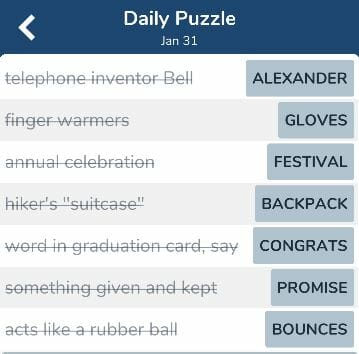 7 Little Words Daily Bonus Puzzle 1 Answers – 31st January 2022
For the first bonus 7 Little Words daily puzzle released on 31st January 2022, players are given the letter tiles: CONC, TE, ESC, OSI, TCHG, UARD, ENTS, PI, EDE, ADOL, CMIL, FY, MA, MP, CO, GRO, SCO, UCHY, LAN, SHO. Here are the clues and the 7 Little Words answers for the 31st January 2022 daily bonus puzzle 1:
Reluctantly admit – 7 letter word – ANSWER: CONCEDE
Ill-tempered – 7 letter word – ANSWER: GROUCHY
PM from 1957 to 1963 – 9 letter word – ANSWER: MACMILLAN
Pre-adults – 11 letter word – ANSWER: ADOLESCENTS
Made up of separate parts – 9 letter word – ANSWER: COMPOSITE
E-commerce platform – 7 letter word – ANSWER: SHOPIFY
Water repellent brand – 11 letter word – ANSWER: SCOTCHGUARD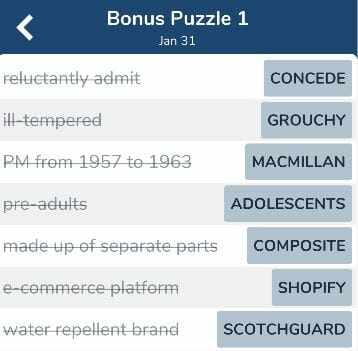 7 Little Words Daily Bonus Puzzle 2 Answers – 31st January 2022
For the second bonus 7 Little Words daily puzzle released on 31st January 2022, players are given the letter tiles: IN, NE, UAN, SI, KPI, DL, HU, BUR, CE, MA, COC, TS, ROW, KNO, BON, NT, SAI, NI, ED, CO. Here are the clues and the 7 Little Words answers for the 31st January 2022 daily bonus puzzle 2:
Full of compassion – 6 letter word – ANSWER: HUMANE
Emulate a rabbit – 6 letter word – ANSWER: BURROW
Art of shaping dwarf trees – 6 letter word – ANSWER: BONSAI
Pilots' places – 8 letter word – ANSWER: COCKPITS
Moved like a crab – 6 letter word – ANSWER: SIDLED
Popular camera brand – 5 letter word – ANSWER: NIKON
The time something lasts – 11 letter word – ANSWER: CONTINUANCE
7 Little Words Daily Bonus Puzzle 3 Answers – 31st January 2022
For the third bonus 7 Little Words daily puzzle released on 31st January 2022, players are given the letter tiles: ST, ORA, CHA, ABO, GIS, MI, UB, CK, COR, UNS, UT, BLY, TA, DOR, DEC, SAL, CK, EL, TE, KNO. Here are the clues and the 7 Little Words answers for the 31st January 2022 daily bonus puzzle 3:
Slapstick – 10 letter word – ANSWER: KNOCKABOUT
Located on the back – 6 letter word – ANSWER: DORSAL
Cover with ribbons – 8 letter word – ANSWER: DECORATE
Remove from a pile – 7 letter word – ANSWER: UNSTACK
Like five-o'clock shadow – 7 letter word – ANSWER: STUBBLY
Chat show host Parkinson – 7 letter word – ANSWER: MICHAEL
Elizabeth II's pet dogs – 6 letter word – ANSWER: CORGIS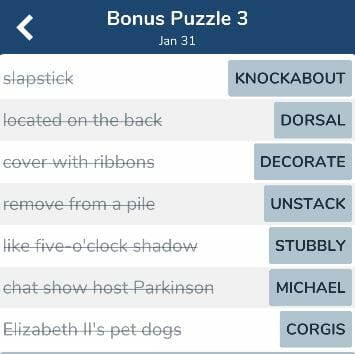 7 Little Words Daily Bonus Puzzle 4 Answers – 31st January 2022
For the fourth bonus 7 Little Words daily puzzle released on 31st January 2022, players are given the letter tiles: HOR, EZ, LI, IES, AVI, RLE, DLY, RED, GA, PIA, SS, ROL, FOR, SU, RIF, SH, NG, NO, SU, TE. Here are the clues and the 7 Little Words answers for the 31st January 2022 daily bonus puzzle 4:
Reduce to strips – 5 letter word – ANSWER: SHRED
This canal opened in 1869 – 4 letter word – ANSWER: SUEZ
Word before pin or stock – 7 letter word – ANSWER: ROLLING
Wildly – 6 letter word – ANSWER: AVIDLY
Utterly appals – 9 letter word – ANSWER: HORRIFIES
Quiet and loud instrument – 10 letter word – ANSWER: PIANOFORTE
Like diet fizzy drinks – 9 letter word – ANSWER: SUGARLESS