Here's a full list of Borderlands 3 Shift codes for December 2021 along with codes for Diamond Keys.
Borderlands 3 players are always looking for the latest list of Shift codes that are currently working. We've created a list of BL3 codes, some of which will provide players with Golden Keys that can be used in-game to open up chests on the Sanctuary ship that will provide players with a bunch of loot. The loot you receive is based on the level of your character.
How to redeem Shift Codes
Follow the beloe steps to redeem keys:
What are Shift Codes in Borderlands 3?
Shift codes are used by players to collect golden keys. These golden keys can be used to unlock a chest in the Sanctuary that will provide you with different loot based on your character level. Shift codes are provided at random times by Gearbox and are usually found on the Borderlands social media channels including Faceboom and Twitter.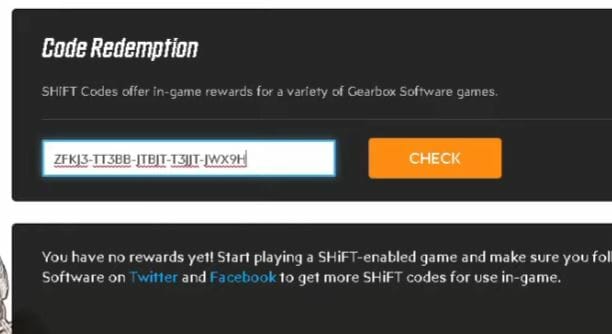 They can also be distributed during events. In order to use the golden keys in Borderlands 3, you'll need a Shift account and you can sign up for one here if you don't have one already.
How to Get Golden Keys
You can get Golden Keys from Shift Codes. As mentioned previously, you can use them in Borderlands 3 to get random rewards including weapons which depend on what level you currently are in the game. You can also get armor and grenade modes. You can redeem the Golden keys at Sanctuary 3.
Borderlands 3 Shift Codes December 2021
Here's a list of working codes as of December 14th, 2021:
ZFKJ3-TT3BB-JTBJT-T3JJT-JWX9H – Redeem code for 3 Golden Keys (Permanent)
ZFKJ3-TT6FF-KTFKT-T3JJT-JWX36 – Redeem code for 1 Golden Key (Permanent)
9XCBT-WBXFR-5TRWJ-JJJ33-TX53Z – Redeem code for 1 Golden Key (Permanent)
HXKBT-XJ6FR-WBRKJ-J3TTB-RSBHR – Redeem code for 1 Golden Key (Permanent)
Z65B3-JCXX6-5JXW3-3B33J-9SWT6 – Redeem code for 1 Golden Key (Permanent)
ZRWBJ-ST6XR-CBFKT-JT3J3-FRXJ5 – Redeem code for 1 Golden Key (Permanent)
CSKBB-SZTSZ-WXWXZ-FJTTB-JWR3R – 3 Golden Keys
Diamond Key Codes
It doesn't appear as though there are any codes for Diamond keys but the you can try using CHC3J-TCHSZ-5XCXH-FTTJJ-JZ55S