Here are the hints and the answers to the daily Jumble puzzle released today, July 7th 2023, including the cartoon caption.
UPDATE: Click here for the hints and the answer to the Jumble puzzle released on July 8th!
Jumble is a classic word game that has been around since 1954. Players need to solve the four words, whose letters have been jumbled up and need to be rearranged to make proper words.
There is also a cartoon that features alongside the puzzle, and the bonus answer is related to the caption of it.
In order to solve the bonus answer, there are some letters from the initial rearranged words that have been circled. These letters need to then be rearranged at the bottom of the puzzle to figure out the bonus answer. These answers are typically puns or homophones.
Hints for the Daily Jumble Puzzle Today – July 7th, 2023
There is a new Jumble puzzle released every day and as some of these words can be a bit difficult to solve, we have some hints below which should help you to guess them correctly:
HAWTE – a 

cereal

 which is the most important kind grown in 

temperate

 countries, the grain of which is ground to make flour for bread, pasta, pastry, etc.
RIWLH – move or cause to move rapidly round and round.
DAREIT – a long, angry speech of criticism or 

accusation

.
CLROSL – a roll of

parchment

 or paper for writing on.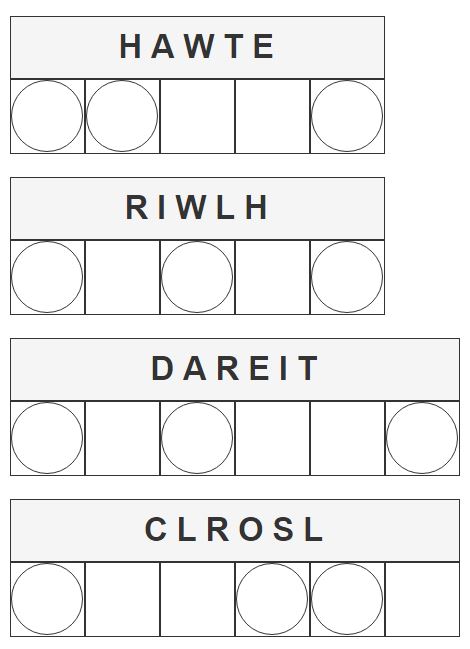 What Are The Daily Jumble Answers Today? (7/7/23)
If you still need more help, the answers to the top four words are:
HAWTE –

WHEAT

RIWLH –

WHIRL

DAREIT – TIRADE
CLROSL –

SCROLL
What Is The Daily Jumble Cartoon Caption Answer Today? (July 7th, 2023)
As previously mentioned, there are circled letters from the four words which can be used to solve the cartoon caption.
The letters that have been circled from the previous words are:
W H T W I L T R E S O L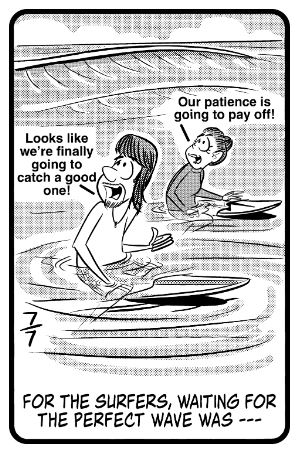 The caption for the cartoon reads, "For the surfers, waiting for the perfect wave was -"
The answer to this by rearranging the letters is:
'"SWELL" WORTH IT'
Let us know if you managed to solve the answer to the Daily Jumble today in the comments section below. Click here for the hints and the answer to the Jumble puzzle released on July 8th!