Here's the location where Xur is today (February 11th, 2022 – February 15th, 2022) along with what he's selling.
For those that don't know, Xur, Agent of Nine, is a vendor that sells players rare goods in exchange for Legendary Shards in Destiny 2. He's only available from Friday through to Tuesday each week, and will appear in several select locations, but it'll change each week.
One of the easiest ways to get legendary shards to use to purchase other items from Xur is by dismantling legendary and exotic gear. You can also gain legendary shards by decrypting engrams that you get when you level up your rank with Faction Vendors.
Each week, players are searching for guides on where to find the location of Xur, and we have his location for February 11th, 2022 along with the items he's selling until he leaves on Tuesday, February 15th.
Where is Xur February 11, 2022
From today until 5 PM UTC on Tuesday, you can find Xur on Nessus at Watcher's Grave up a tree.
Here's a map of Xur's location: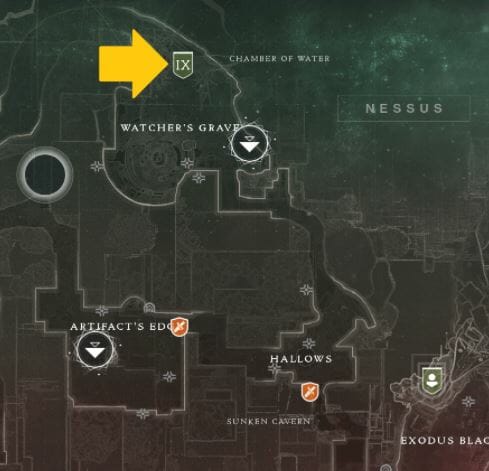 What is He Selling
Here's a list of all the items you can purchase from Xur until it leaves:
Exotic Gear:
| Name | Type | MOB | RES | REC | DIS | INT | STR | Total | Cost |
| --- | --- | --- | --- | --- | --- | --- | --- | --- | --- |
| Exotic Engram | Engram | | 97 Legendary Shards | | | | | | |
| Graviton Lance | Energy Pulse Rifle | | | | | | | | 29 Legendary Shards |
| Lucky Raspberry | Hunter Chest Armor | 17 | 15 | 2 | 16 | 11 | 2 | 63 | 23 Legendary Shards |
| Mask of the Quiet One | Titan Helmet | 15 | 16 | 2 | 16 | 7 | 9 | 65 | 23 Legendary Shards |
| Winter's Guile | Warlock Gauntlets | 2 | 2 | 27 | 2 | 26 | 2 | 61 | 23 Legendary Shards |
Legendary Weapons:
| Name | Type | Cost |
| --- | --- | --- |
| Gnawing Hunger | Energy Auto Rifle | 50 Legendary Shards & 1000 Glimmer |
| The Last Dance | Energy Sidearm | 50 Legendary Shards & 1000 Glimmer |
| Cold Denial | Primary Pulse Rifle | 50 Legendary Shards & 1000 Glimmer |
| Seventh Seraph CQC-12 | Energy Shotgun | 50 Legendary Shards & 1000 Glimmer |
| IKELOS_SR_v1.0.2 | Energy Sniper Rifle | 50 Legendary Shards & 1000 Glimmer |
| Temptation's Hook | Heavy Sword | 50 Legendary Shards & 1000 Glimmer |
| The Third Axiom | Energy Pulse Rifle | 50 Legendary Shards & 1000 Glimmer |
Legendary Armor:
| Name | Type | Cost |
| --- | --- | --- |
| Lost Pacific Grips | Hunter Gauntlets | 50 Legendary Shards & 1000 Glimmer |
| Lost Pacific Vest | Hunter Chest Armor | 50 Legendary Shards & 1000 Glimmer |
| Lost Pacific Cape | Hunter Hunter Cloak | 50 Legendary Shards & 1000 Glimmer |
| Lost Pacific Mask | Hunter Helmet | 50 Legendary Shards & 1000 Glimmer |
| Lost Pacific Strides | Hunter Leg Armor | 50 Legendary Shards & 1000 Glimmer |
Exotic Ciphers:
Name
Type
Cost
A Question
Quest Step