We have a new patch update for Dying Light 2, 1.07. Here are the patch notes for the February 16th, 2022 update.
Dying Light 2 was released on February 4th, 2022 after years of constant updates and bug fixes for the first title. We're expecting more of the same with the new game release with regular content updates.
Today, we have the 1.017 Dying Light 2 patch update, which has only been released on PC right now, but there's a chance we could get an update for consoles later on. There's no new content, but there are some fixes and improvements.
Dying Light 2 Feb 16 2022 Patch Notes
The February 16th, 2022 1.07 update fixes the death-loop bug players have been getting. Players won't get any new cases of the death-loop bug and the existing ones have all been addressed.
A backup save system was added that allows players to rollback their game progress and inventory from the last game's previous save point. Finally, there's support for the block, active landing, and jump attack on rebindings on keyboard.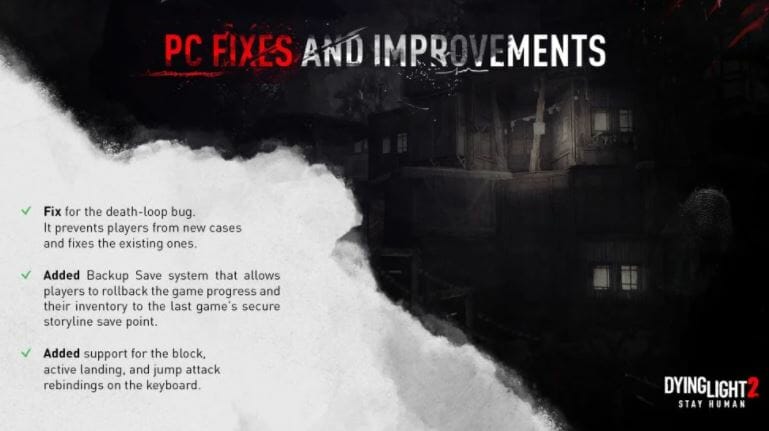 That's it for the 1.07 Dying Light 2 update, we'll let you know if there's a patch that gets pushed out for other platforms in the future. If you weren't already aware, there's already a free DLC pack, which was released yesterday. You can download it from the PlayStation store for PS5 and PS4.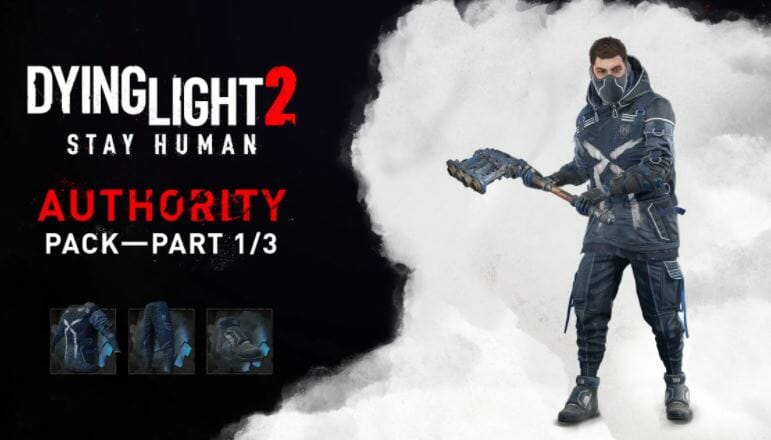 The Authority pack includes the Itntimading Jacket, the Intimidating Cargo Pants, and the High-tops. We also have Twitch Drops that you can get by watching Twitch streams for a specific duration. The rewards for Twitch Drops can be seen below:
60 Minutes – The Extinguisher axe
120 Minutes – Timeout machete
180 Minutes – Protective Mask
240 Minutes – Plated Savage mask
300 Minutes – Funkadelic bow