Elden Ring is now available on PC and will be playable on PlayStation and Xbox consoles soon. Here's what you need to know about crossplay and multiplayer in Elden Ring.
PC players have been enjoying Elden Ring, but console players are still waiting for it to release. Players are wondering whether the game has cross play and cross-progression along with questions regarding how multiplayer works.
With so many different consoles like the Xbox Series X, Series S, PS4, and Playstation 5, it's confusing when a new game launches like Elden Ring as sometimes it's difficult to know if there's crossplay and cross-progression. We have some informaton to help answer your questions below.
Is there Crossplay and Cross-Progression in Elden Ring?
Elden Ring is available of PC, PlayStation 5, PlayStation 4, Xbox One, and the latest Xbox Series X|S line. With a large number of new games supporting crossplay, it's understanable if players automatically assume that Elden Rings supports.
Unfortunately, that's not the case and there is no crossplay in Elden Ring. PlayStation players are locked to playing with players on the platform, as is the same for Xbox and PC players. Cross-generation and cross-progression is available though.
If you're on a PlayStation 4, you'll be able to play Elden Ring with someone playing on the PlayStation 5. Xbox One players can play with Xbox Series X|S users. There's no information regarding crossplay coming in the near future, but if there is, we'll update this post with any updates.
Is There Co-Op Multiplayer in Elden Ring and How Does it Work?
There IS co-op multiplayer in Elden Ring. You're provided the option of whether you'd like to play online or offline when you begin a game. You'll be able to change this at any point during your adventure through the network section located in the systems tab in the menu. However, if you change this, you'll need to restart the game in order for the changes to take effect.
The game allows up to 4 players and are features include cooperative PvE and PvP. You're able to summon players into your game using summoning signs. You can use the Furlcalling Finger Remedy item, which once used, will allow a player to see summoning signs on the floor, which will show players that are willing to play online with you.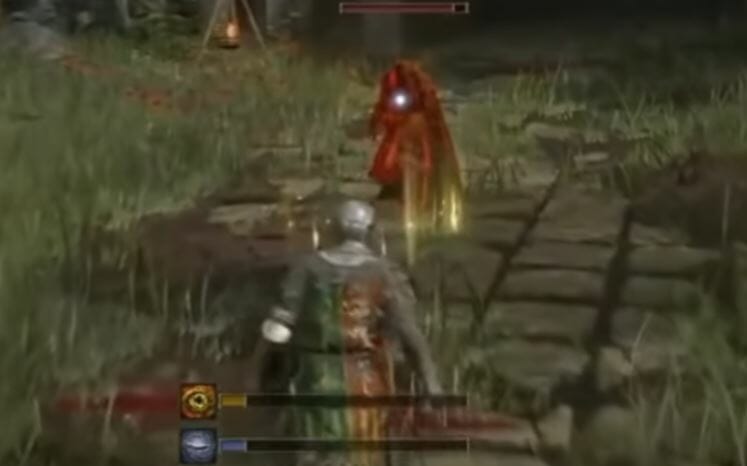 How does PvP work in Elden Ring?
Players can fight players using the PvP side of the game, and there are two items that allow you to do this, the Duelist's Furled Finger and the Bloody Finger. There are four Elden Ring multiplayer / co-op items. Here's what they are and what they do:
Furlcalling Finger Remedy – Shows summoning signs placed by other players. Allows you to summon these players into your current game.
Tarnished Furled Finger – Allows you to place a gold summoning sign, which allows others players to pull you into their game for a co-op experience.
Duelist's Furled Finger – Used to challenge other players to PvP by placing a red summoning sign on the floor.
Bloody Finger – Allows you to invade other games for PvP.