Epic Games are having issues with verification emails not sending or being received by players.
Since the launch of the new season of Fortnite, Epic Games have been having a number of issues with not only the Fortnite servers, but the Epic Games services have been having a number of different issues as well.
Players are wondering if Epic Games is down at the moment as players have been reporting a number of different issues over the past two days. However, Epic have acknowledged some issues players are facing today and are looking to address them.
Epic Games Email Verification Email Not Sending
For the past couple of hours now, players have been reporting an issue where the Epic Games email verification email is not being sent. These emails are related to registration and 2FA.
As there are issues with Email Games emails not sending, players are having a login issue because if they have 2FA enabled on their account but aren't getting the email with their code, they aren't able to login to their account.
Epic have stated on the Fortnite Status Twitter account that tthey aware of this issue and they are working to fix this issue as soon as possible. They will provide an update on the Fortnite Status account when this issue has been fixed.
Here's the official tweet from Epic: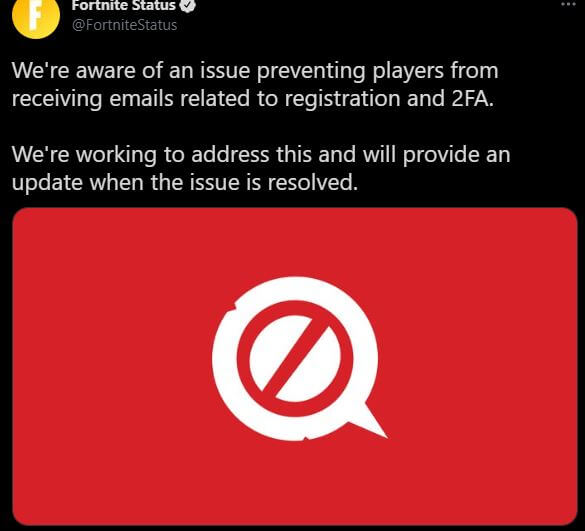 Epic have also tweeted the issue on the Twitter account for the store. With Epic launching Discord on their store, they are providing players with three months of nitro for free. However, it looks like this promotion isn't working at the moment as the link emailed isn't working, or they aren't getting the email in the first place.
We'll update this article when the issue has been fixed.