Here are some hints and the answer for Worldle 151 today, released on June 21st, 2022.
UPDATE: Click here for the hints and the answer to Worldle 152!
Worldle is another Wordle-inspired game, but this one requires you to guess the country or territory for the day. The game's default mode shows you the outline of the country and gives you six guesses to solve the answer. When you make a guess and it is not the correct answer, you will be told how far away the guessed country is from the answer and the direction you need to look.
If you would like a more difficult challenge, try one of two other modes, both of which can be found in the game's settings and will affect the next puzzle. The first option is to remove the image of the country entirely, leaving you to guess at random. Your guesses will still show you how far away you are from the actual country and which direction you must travel to find the answer which means you can make more educated guesses going forward.
The other option rotates the country's image, so it may appear upside down or sideways on the map, but you won't know which way it is. This will confuse you and make guessing the country a bit more challenging.
Worldle Geography Game 151 Hints Today – June 21, 2022
We like to give our readers hints as to what the country might be before we give you the answer to help you if you're stuck.
Here is what the country/territory looks like for the Worldle 151 puzzle today: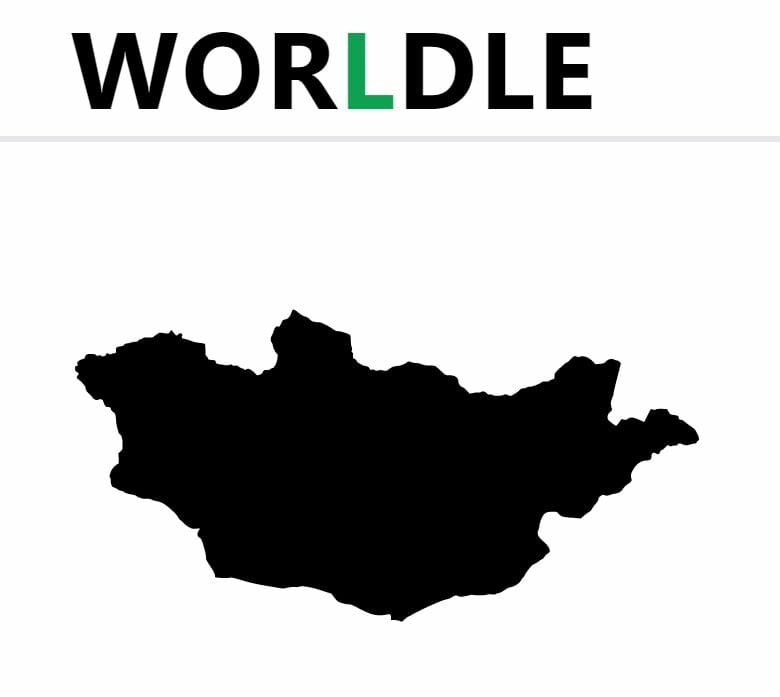 Here are the clues we have for the Worldle today (June 21st, 2022).
Hint 1: It is located in Asia.
Hint 2: There are eight letters in the name of the country.
Hint 3: It is known as a land of vast, unspoiled wilderness, for a long term known as the 'end of the earth'.
Hint 4: The first letter of this country is M.
What is the Worldle 151 Country Answer Today? (6/21/22)
The answer to the Worldle 151 country today is…
MONGOLIA!

FUN FACT: Mongolia Has The World's Coldest Capital City. Ulaanbaatar is the capital of Mongolia. It is located in the country's north-central part at 1,300 m above sea level in a valley formed by the Tuul River. Nearly half of Mongolia's population live in and around this city. It is also the world's coldest capital. The annual average temperature of Ulaanbaatar is around -1.3°C. The summers here are short and warm while winters are extremely dry and bitterly cold. January temperatures can drop to as low as −36 to −40 °C.
Well done if you managed to guess the country today! Click here for the hints and the answer to Worldle 152!