Grand Turismo 7 has been having server issues for the past day, here's what is causing it and the current server status on March 18th, 2022.
GT7 is a sim racing video game that was released at the start of the month and is one of the biggest PlayStation releases of the year so far. Unfortunately, the servers have been down for almost a full day due to an issue found with the recent 1.07 patch update.
The 1.07 GT7 update added a broadcast mode option to the sound volume settings. A number of improvements and adjustments were also added including fixing issues selecting a setting sheet, wind direction for some events, and with specific tyres not working on vehicles.
There also seems to be outrage among the Grand Turismo community with players upset with the credit changes. With the "nerf" to the speed at which you can obtain credits, players feel like they're being forced to buy credits.
Twitter user Ronin Rakurai posted an image of the credit changes that have been made, which we've included below: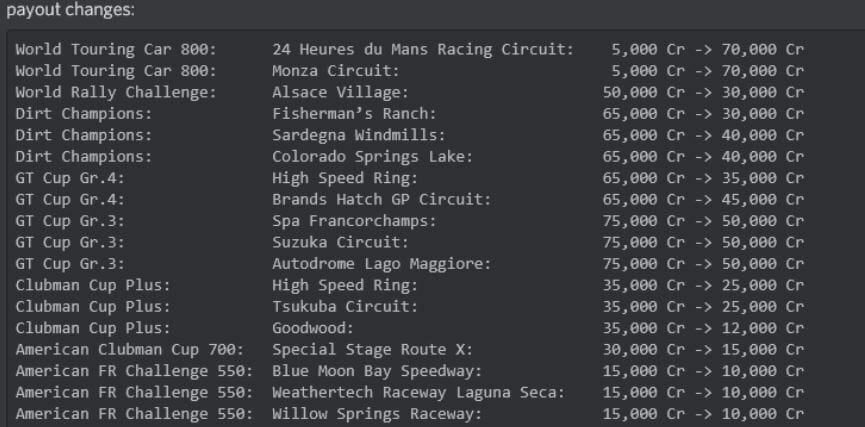 GT7 Server Maintenance Status
Originally, the GT7 server issues were supposed to be fixed yesterday. However, the official Grand Turismo Twitter account released an update that stated that the server maintenance will be extended. Here's the official statement:
"Due to an issue found in Update 1.07, we will be extending the Server Maintenance period. We will notify everyone as soon as possible when this is likely to be completed. We apologize for this inconvenience and ask for your patience while we work to resolve the issue."
When Will GT7 Be Back Online?
The GT7 servers should be back online within the next few hours. However, there are rumors that there are issues with everyone's save data, which if true could lead to players uninstalling the game and asking for a refund.
We'll keep you updated with the latest.