We have a new Heardle, #13. Here's some hints to help you guess the daily song if you're struggling with the March 10th, 2022 release.
Nowadays, it's not really a surprise if we see a new daily game based off the success of Wordle appear. We've already had games like Dordle, Quordle, Octordle, and several other daily word games find success.
Nerdle, a math spins on Wordle, has also gained popularity over the past few weeks. Then there's Heardle, a brand new game that was released at the end of February. It almost instantly went viral with Spotify tweeting their score.
Heardle tasks players wioth guessing the song of the day within six attempts. There's been a few songs that have been extremely easy to guess with players getting it on the first try. If you can't get it on the first attempt, any incorrect attempt or skipping a guess will unlock more of the song clip.
A new daily Heardle goes live at midnight local time, which means there's a new one for March 10th, 2022. Here's some hints along with the answer to number 13 of the viral music game.
UPDATE: The Heardle 14 hints and answers can be found HERE (March 11)
Hints
Hint 1: Released in 2021.
Hint 2: Lil Nas X
Heardle 13 March 10th, 2022 Answer
If after the two hints you're still struggling guessing the song, the answer for Heardle 13 released on 10th March, 2022 is Lil Nas X – That's What I want.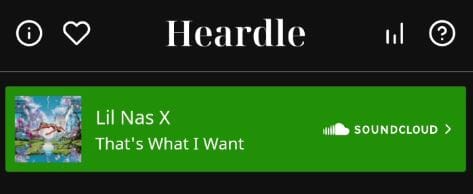 We'll see you tomorrow with more hints and the solution!