Jagex has revealed the free rewards players can claim from Runescape Prime Gaming starting from March 15th 2022.
Earlier today, Jagex released a blog post revealing that the open beta for the new Jagex Launcher is now available. It offers big improvements to the login experience with the main feature being that it remembers your account.
The new launcher will retain your details if you log in at least one every thirty days, making it easier to log back into your account. A lot more additional features are in the works, and if you want to test out the open beta, you can do so by navigating to the Jagex launcher page found over here.
We also have quality of life changes for this week's Runescape 3 update. Elite Dungeon drops now have a unified drop rate per clean, abilities have been updated, including Smoke Tendril, which appears to grant guaranteed critical hits. Finally, boss fights can now be measured in milliseconds.
If you have Prime Gaming, there's a new set of rewards available, which we've listed below.
Runescape March 15 Prime Gaming Rewards
If you're a Prime Gaming member, you can get the following rewards:
Seven days of membership
Currency Pack stuffed with 35 Treasure Hunter Keys and 200 RuneCoins.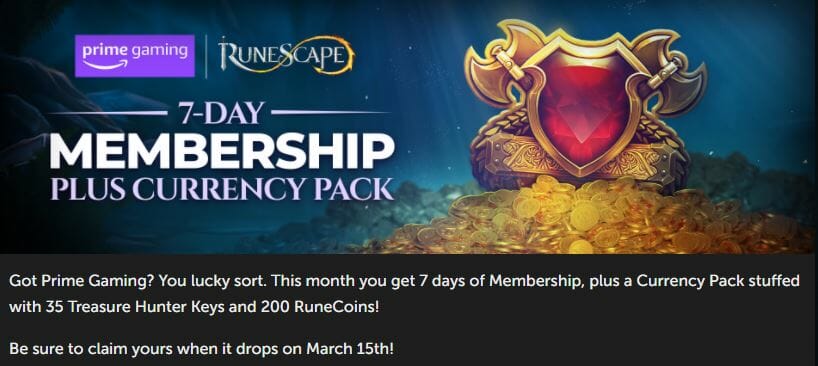 They'll be available starting tomorrow, March 15th. If you don't have Prime Gaming, you can always sign up for the 30-day free trial. In order to redeem the rewards, you'll need to head over to the home Prime Gaming home page and log in to your account.
Find the Runescape March 15th offer when it goes live tomorrow and redeem it. Whilst you're on the page, take a look at all the other free items that are available for other games.