Here are the patch notes for the new The Sims 4 update, 1.52.
The last major content update that was released for The Sims 4 was the Carnaval Streetwear Kit, followed by the announcement of My Wedding Stories a few days ago. There's been a bunch of controversy surrounding the patch release due to the pack being banned in Russia.
We have a new The Sims 4 update, today, patch 1.52, released on February 15th, 2022, which is now available to download on PC, Mac, PS4, and Xbox One. To download 1.52 on PC, players need to open Origin, which should get the update automatically. If that's not the case, you'll need to right click on the game and update in manually.
If you're on console, the 1.52 The Sims 4 update should download automatically either when you turn your console on, or it'll already have downloaded if you select the option where any new patch releases will download automatically if you leave the PS4 or Xbox One on rest mode.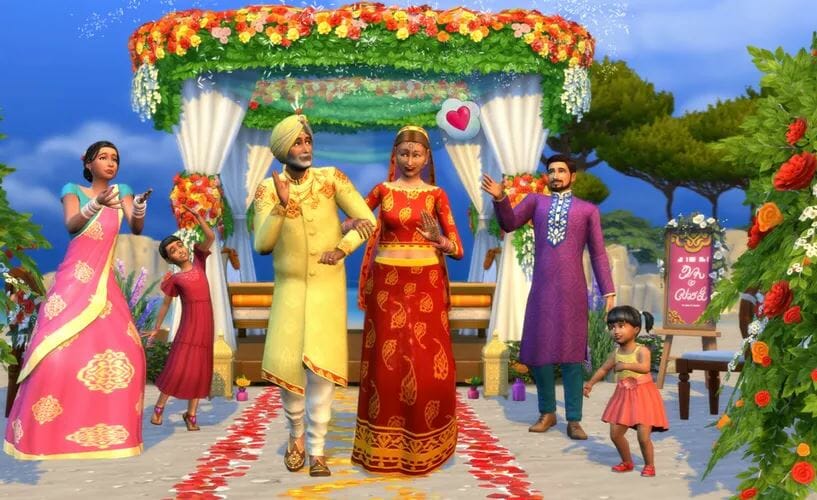 Today's update allows players to create a new relationship option int he Create a Sim. You can allow your Sim to start off engaged if they set their relationship to Fiance as an example. This feature was added to allow players to use the upcoming My Wedding Stories game pack to the fullest in two days time.
There are also a number of Create a Sim item updates for all players along with bug fixes for numerous game packs including Cottage Living, Eco Lifestyle, and more. Here are the full official patch notes for the February 15th, 2022 1.52 The Sims 4 patch update.
What's New in The Sims 4 1.52 February 15 2022 Update
Update version: PC 1.84.171.1030, Mac 1.84.171.1230, Console: 1.52
5 dresses for Women

yfBody_DressWeddingMermaid
yfBody_DressWeddingTiered
yfBody_DressFrillyRomantic
yfBody_DressFlutter
yfBody_DressBridesmaid
2 Suit Jackets for Men

ymTop_Coat
ymTop_CoatDoubleBreasted

1 Dress for Children

cfBody_FP01Dress (Free Holiday Pack)

Additionally in Build Buy you will see that the two Base Game wedding arches and the Pergola now come in a few more colors.

Bug Fixes

The Sims 4

Male Celebrity Sims will no longer use the feminine walking or jogging walk style unless that's what you prefer them to do.
Clicking on a Sim's face in Create a Sim will take you to the general Face, Hair or Accessories selection mode now instead of taking you to the Detail Edit Mode straight away. Sims do also deserve a little personal space.
Improved performance when switching from Live to Build Mode in certain cases.
Fences should no longer disappear when hovering a gate over them after using the bb.moveobjects cheat.
Playing with Genetics in Create a Sim will no longer generate Teens with crow's feet skin details. There are so many things that teenagers worry about – crow's feet shouldn't be one of those things.
Error 142: 9a63747c should no longer appear in future saves when loading certain lots.
Sim can move or travel to lots after returning from a concert now without getting stuck in the Manage World screen.
Selecting the yfHair_SP19CurlyUndercut_Red hair style for your Sim in Create a Sim will no longer apply the color of the hair to the Sim's eyelashes.
Children should have matching eye colors of their parents now if both parents have purple or red eyes.
Some players reported an error saying "Entitlement missing" when attempting to move or delete walls of Lots placed from the Gallery. This error should no longer occur.
Obese Sims' upper bodies should no longer shrink in size when zooming out while wearing specific outfits (ymTop_EF15ShirtCollared & yfBody_SP16Pajama).
Turning off the console legend option in the game options menu will now properly hide controller hints from time control and Sim selectors.
Long nails no longer poke through the gloves of certain outfits.
Fixed some issues that may cause an endless loading screen when attempting to load certain lots or saves.
The Create a Sim interface was a little slow when loading thumbnails and color swatches in the hair section. We made some tweaks, and the images should load much faster now.
There was a funky toddler thumbnail displayed under the Accessories section for toddlers. This thumbnail did not serve any purpose and has been removed. Enough funk for you, sneaky toddler.
Heeled shoes no longer appear glitched while wearing ymBottom_EF28JeansSkinTight pants.

Cottage Living

Grim Reaper now possesses the emotional fortitude to deal with the death of two animals at the same time. Life can be harsh buddy, I know.
Pants ymBottom_EP11PantsCorduroy_SolidGinger should now properly appear when selecting the masculine filter. We also updated the fit on feminine frames.
The yfHair_EP11BunTwists_broen hairstyle should no longer create white lines on your Sims face when selecting this hair style in Create a Sim.
Toddler shorts pfBottom_EP11ShortsDrawstring no longer show a gap between upper and lower body.
Wisteria and Ivy plants placed against a wall inside a room appeared darker in some spots than they should have. We shed some light on those plants and they should appear much better now.

Eco Lifestyle

Lots in Evergreen Harbor should now have some proper ground beneath them when accessed through build mode and the world should not look like it's underwater any longer.

Discover University

The yfTop_EP08CardiganButtonup top now works properly with boots.

Dream Home Decorator

Dress yfBody_GP10DressSuspender_SquareNavy no longer causes discoloration on certain shoes.
GP10SkinnyJeanFlanel pants look fabulous combined with boots now.
The ymBottom_GP10WorkPants should now be properly resizable on male Sims.
The Mid Century Style Filter will include items from all packs now, not just from Dream Home Decorator.
Switching from Build and Buy Mode to Live mode and back to Build and Buy mode while working on an Interior Decorator gig, caused the amount of Simoleons already spent not to be deducted from the Client budget. This has been fixed now and the Client budget should always account for already spent Simoleons.

Star Wars: Journey to Batuu

We fixed an issue that caused Batuu Credits to be falsely displayed as Simoleons in the Household Funds.

Strangerville

You can harvest Bizarre Fruits from Bizarre Plants now. ΜØŦĦ€Ř… ĆΔŁŁŞ ŦØ Μ€…

Spa Day

Sims with the Self-care Specialist Aspiration can sell Harvestables without issues now.

Dine Out

There was some discrepancy in Perk points shown for business owner Sim in the "Owned Business" menu vs. the "Restaurant Perks". The "Owned Business" menu will show the correct number of remaining Perk points going forward.

Tiny Living

Toddlers should no longer have a bald spot on their head when wearing hair styles from Tiny Living. Hair clippers should be stored outside the reach of children.

Blooming Rooms Kit

Some plants from the Blooming Rooms Kit were updated to not cast a wrong shadow any longer.

Fashion Street Kit

Pants ymBottom_SP24ShortsTied & ymBottom_SP24PantsLayered do also no longer cause clipping when paired with boots.

Courtyard Oasis Kit
The Star of Paradise Fountain can be found in the Build & Buy catalog now when applying the Kits filter.