Here is the Canuckle answer today for #191 word, released on November 21st, 2022 and some hints to help you solve it.
UPDATE: Click here for the hints and the answer to Canuckle 192!
Canuckle is the Canadian version of Wordle where all the words are Canadian-themed. The rules of the game are the same where players need to guess the five-letter word with no clues.
Once a guess has been made, the tiles will change colour to let you know if the letters you have guessed are in the answer and if you have placed them correctly in the word.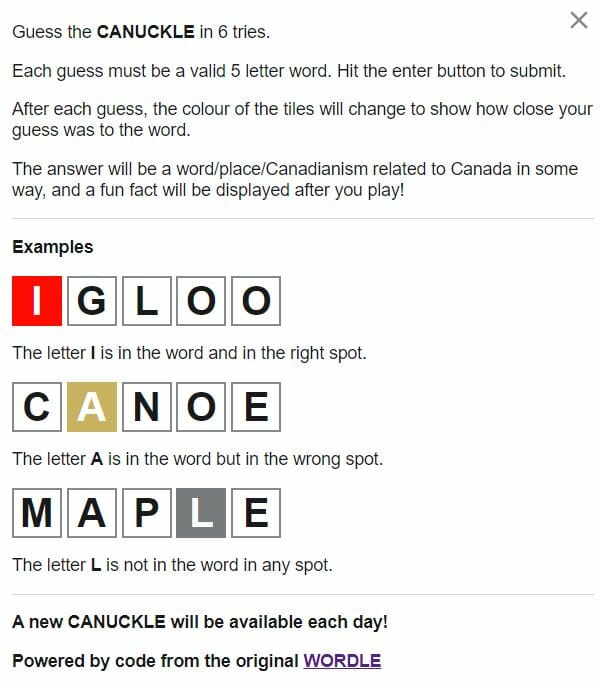 The colours are slightly different, with just the bright red replacing the green to show you have the right letter in the correct place. Both of the other colours are the same, yellow and grey, letting you know if the letter is in the word or not.
There is also a fun fact that is given to you when you guess the answer and you can see the fun facts being expanded on, on their Twitter account, @CanuckleGame. We will be covering the answers, letting you know the fun facts at the end of the puzzle as well as giving you hints first to help you guess the word yourself!
Canuckle 191 Hints Today – November 21, 2022
As the word can be quite difficult, we have some hints for Canuckle 191 to help you to solve it, which are:
Hint 1: Contains the letter G.
Hint 2: It starts with the letter L.
Hint 3: There are two vowels in the word today.
Hint 4: Make the spontaneous sounds and movements of the face and body that are the instinctive expressions of lively amusement and sometimes also of derision.
What is the Canuckle 191 Answer Today? (November 21st, 2022)
The answer for Canuckle 191 is:
LAUGH!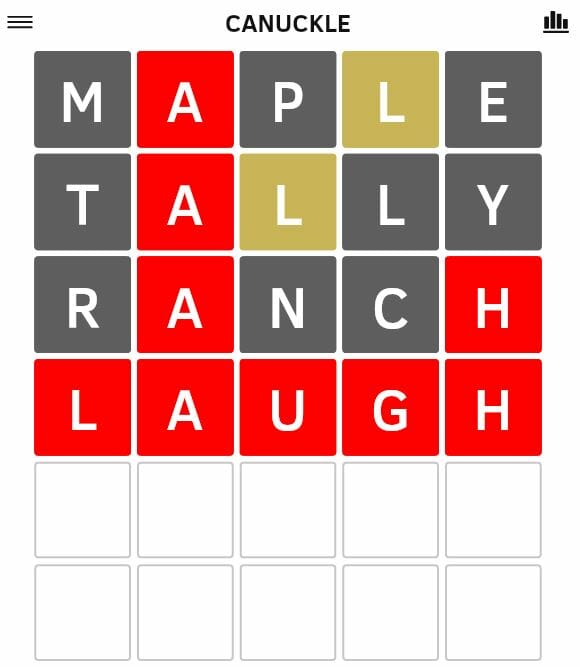 Canuckle Fun Fact Today – (11/21/22)
Just for Laughs is a comedy festival held each July in Montreal, Quebec, Canada. Founded in 1983 at the Saint-Denis Theatre, it has grown to become the largest international comedy festival in the world. Hundreds of big-name comedians have participated, including Jim Carrey, Trevor Noah, Joan Rivers, Jimmy Fallon, Kevin Hart, and Amy Schumer.
It's Canada History Week! This year it takes place from November 21 to 27 and the theme is "Arts, Culture, and Creators". The week encourages Canadians to reflect upon and engage with Canada's past, and serves as an opportunity for Canadian citizens to learn more about the people, places, and events that shaped the country they know today. Canuckle will be featuring words all week that tie in with the theme! #HistoryWeek2022
Click here for the hints and the answer to Canuckle 192!